ZG SMITH: Nighttime Animal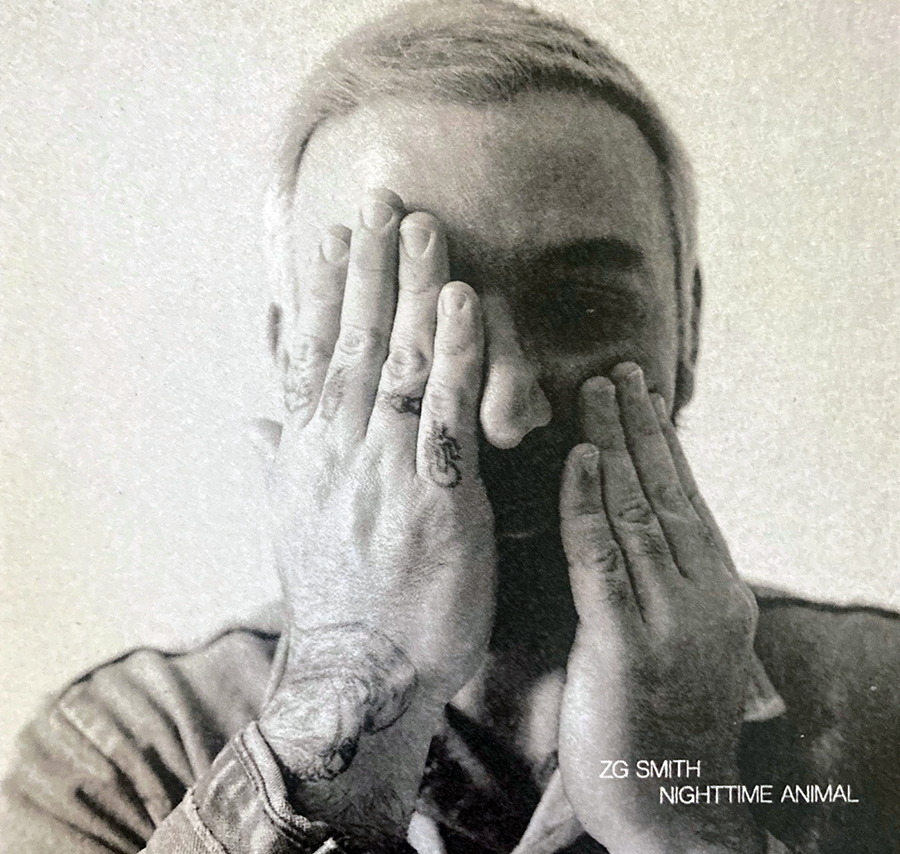 Awhile back I stopped by the Monday night Writer's Round at the Ould Sod on Adams Ave. It was the best move I've made in months because I discovered a singer/songwriter by the name of ZG Smith. As it turns out Smith, formerly of the band Smooth Hound Smith, was out touring behind his latest solo release Nighttime Animal. I bought the EP and haven't stopped listening to it.
The EP includes six tracks that take you down a rabbit hole of styles, rhythms, and tempos that all seem to morph into a melodic dream state. Easy listening that shreds, pop music layered with lap steel…I found it so much easier to just ask ZG how he describes his musical direction.
I really love the description you provide, "easy listening that shreds." Ha ha! For ease of conversation, I usually describe the sound as "indie-folk" because it's fairly broad. I also try to emphasize the fact that I'm a finger-style player. I think in the thousands of gigs I've played, combined with my previous band and with this new project, I've used a plastic pick fewer than 10 times; there's something nuanced and unique about playing an instrument directly with your hands; I'm able to conjure a more complex palette of sounds, and it just feels right to me. As far as influences, they're incredibly varied. I studied ethnomusicology in college, which introduced me to a lot of world music; I focused on Brazilian and African percussion, and I think some of that shows through. Most of my songs use fairly simple chord structures because I derive a lot of pleasure out of making the complexity and innovation that come from rhythm and picking patterns. 
Your musical collaboration with Jonathan Smalt and Kyshona Armstrong on the title track "Nighttime Animal" seems so recognizable yet so different from anything else. How does that even happen? That harp just screams. Do you have a process when writing or is it more spontaneous when creating or collaborating?
I've been asked this question a number of times, and I've yet to find a good answer to it. My process is always different and always changing because every song is different. Sometimes I'll be struck spontaneously with an idea, and I can finish a song in 10-15 minutes; other times, I'll have a kernel of a verse or chorus and maybe some chords rolling around in my head for literally years, like my mind is a rock tumbler slowly polishing it until it makes sense. Lately I've been making it a point to co-write with different people whose music and writing I respect and connect with, like Kyshona, in order to expand my process. Nighttime Animal was pretty extraordinary. I believe I had the chords and maybe a verse when Kyshona and I got together, and we just sort of knocked it out quickly from there. I think we both knew in the moment how special the song was—the lyrics, chords, and melody worked so well together, and I think we kept asking each other if we were unknowingly borrowing from an existing song, because of the way it flowed, it seemed like a song that had always existed. I love that song a lot, and from a production standpoint, it's probably my favorite on my record.
Aren't you originally from SoCal? Was it music that drew you toward Nashville?
Yep! I grew up on the westside of LA. I moved to Nashville because I felt stagnant in my music creation. I had been predominantly a percussionist and upright bassist up until that point and wanted to play guitar and sing and write songs, but I was afraid to do it in an environment where I knew a bunch of people and would potentially be judged, so I kind of sequestered myself in Nashville for year, moved out there without knowing anyone, and just got to work. Eventually I moved back to LA, started my band Smooth Hound Smith, then we moved back to Nashville together, and five years later we were playing at The Ryman and opening for The Chicks (formerly The Dixie Chicks) at Bridgestone arena!
ZG Smith is one talented singer/songwriter and I can't recommend this EP enough. The disc was recorded at Summit Sound in Nashville; Nighttime Animal features Z.G. Smith on vocals, guitars, harmonica, drum loops, and percussion. The band includes Jonathan Smalt on drums, drum loops and percussion with Taylor Thompson on bass and Josh Blaylock on synth bass and keyboards. Devon Gilfillian guests on the track "Hooks," Blake Reams plays lap steel on "Nighttime Animal," and Raymond James Mason add horns to "Let Me Back In." All songs by ZG Smith except "Hooks," which was written by ZG Smith and Guthrie Brown and "Nighttime Animal," written by ZG Smith and Kyshona Armstrong.