BLACK MARKET III: Soul Survivor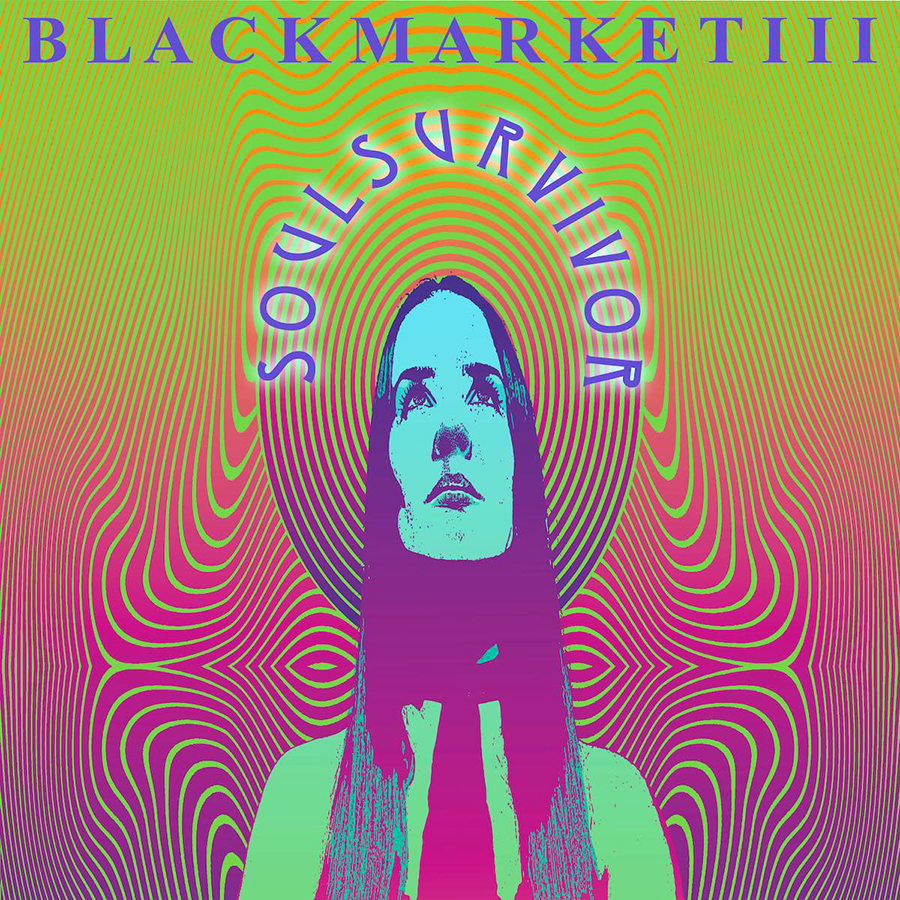 Soul Survivor is the sixth CD from Black Market III, fronted by guitarist/vocalist Scottie Blinn and bassist/vocalist Roxanne Coverdale-Blinn. The 11-track package, produced by Blinn and Coverdale, brings Coverdale's lead vocals and songwriting front and center throughout most of the album. The other members of Black Market III are Joe Hager on drums and Alan West on percussion.
Coverdale busts out of the gate on the opening two tracks with gutsy soul vocals on her original tune, "I Wish Your Love Was True" and the Allen Toussaint classic, "Trouble with my Lover," bolstered by the old-school soul horn section, featuring Ed Croft on sax, Andy Geib on trombone, and Nathan Samuels on trumpet, leading the way.
Next up, Coverdale switches vocal gears on her original tune, "Fire Heart," a minor-key ballad ornamented by guest keys man Jody Bagley's bluesy organ solo and background vocal support from Sandi King. "Black water rolls, gray skies above me…my fire heart will always warm me."
Blinn steps in vocally with an on-point rendition of Tom Waits' "Hoist That Rag," accompanied appropriately by guest pianist Mark Boyce's rolling salsa motifs, followed by "Rosalee," a 6/8 time ballad penned by Coverdale with harmonic support from Bagley on piano and Jamie Shadowlight on violin, highlighted by Blinn's tasty guitar solo. "Heard her say, I'm okay, it's alright, I'm not afraid, I see the light, and nothing that's good comes easy."
The rocking title track, "Soul Survivor," another Coverdale original, brings her powerful vocal lead presence to the forefront with fiery solos by Bagley on organ and Blinn's fuzz tone-laden licks. "I've tried my best, my whole life through, I've tried my best to be good for you."
A lovely vocal duet between Blinn and Coverdale on "Alone Again or," a cover tune from the legendary group Love, is followed by a Coverdale-penned gospel blues goodie, "Blue Eyed Angel (Jill's Song)," bringing in Joey Harris on backing vocals with soul drenched solos from Blinn's guitar and Croft's sax. "I've been given an angel, blue-eyed angel above…someone to watch over me, someone I love."
Coverdale confidently belts out a cover version of Stephen El Rey's haunting rock composition, "Walk on Fire" as Blinn dials in a nasty tone for his extended solo using a nice blend of outside-the-box tones and flurries of double-stop phrases to fit the ominous mood of the track.
Guest pianist Sue Palmer sets the stage for the cover tune "Down in Mexico," with a backdrop of cumbia-laced motifs against Blinn's lead vocal, chosen from the vast Leiber/Stoller songbook titles. The album concludes with a grand production version of David Bowie's "The Man Who Sold the World," building beautifully in theatrical fashion behind Hager's drum onslaught and intertwined with Blinn and guest pianist Paul Cougill exchanging gypsy flavored riffs amid Coverdale's dynamically ascending vocal chorus, capping off an eclectic mix of well-written original tunes and less frequently heard covers, all culminating in a wide spectrum of musical candy for the ears.