Harold in the Land of Jazz
While San Diego hasn't been thought of as much of a jazz town until recently, the truth is that many famed jazz-era musicians got their start here, from Arthur Blythe to the Liggins Brothers. Even among such illustrious company, it's clear that one of the most important jazz players ever to emerge from our town is saxophonist Harold Land.
Born on December 12, 1928, in Houston, Texas, Land arrived in San Diego in 1933, at the age of five. His family lived at 1703 Imperial Ave., and he found his love of music early. He attended Memorial Jr. High in Logan Heights and then San Diego High School, graduating in 1946. According to his wife Lydia, "He was in the San Diego High School orchestra, but jazz was his love. He'd had piano lessons, but after he heard Coleman Hawkins, a saxophone was all he wanted to play. When he was 16, he was given a tenor saxophone. Mrs. Land recalls, "Harold had a music teacher who was very strict. Everything had to be a certain way, so for fun, whenever the teacher would leave the room, he would let go with music the way he wanted to play it, taking the same songs and rearranging them." He had just graduated when a friend, bass player Ralph Houston, helped him join the Musician's Union, setting him on the path toward becoming a world-renowned musician.
Land was influenced by other famed saxophonists of the day, including Lucky Thompson and especially Charlie Parker, and became part of the house band at the Creole Palace in downtown San Diego as a member of Fro Brigham's group. "During these jobs my closest friend and musical colleague was the drummer, Leon Petties," Land remembers. Quoted by Leonard Feather in the liner notes to Land's own 1959 album, The Fox, he spoke of his days in the club's small combo. "We played the floor show and jazz sets too. Sometimes men like Hampton Hawes, Teddy Edwards, and Sonny Criss came down from L.A. and worked with us. This provided a great stimulus."
Though the Creole Palace was a mainstay, Fro Brigham's band played many other venues. "I was a jitterbugger when I met Harold at the Club Romance in 1949," says Mrs. Land. "That club was just two blocks south of the Creole Palace." Of the band at the time she says, "They played all the jazz, well, really bebop, that they could in a set, and all the jitterbuggers would be there. People just loved Fro's voice and wanted to dance."
On April 25th of that year the band, under the moniker the Harold Land All Stars, cut four songs at Savoy Records in Los Angeles, resulting in the regional hit "San Diego Bounce" (Regent 1020) when released in 1950. The song also proved to be a huge hit in Jamaica, where it was bootlegged under the titles "Downbeat Shuffle" or "Coxsone Shuffle." The other three songs, recorded at the session, would have to wait until the late seventies to finally see the light of day on a Savoy Records anthology, Black California.
Land and Petties soon left the Creole Palace to work on the road, first spending a year in a group led by guitarist Jimmy Liggins and then in the band of his slightly more famous brother, Joe "Honeydripper" Liggins. Although Land considered his rhythm-and-blues road experience invaluable, he was soon back at the Creole Palace, though by 1954 he had moved to Los Angeles.
Mrs. Land says, "We lived in San Diego until 1954, and our son was born there. We left San Diego when he was four and not long after that Harold joined up with Max Roach."
Following a succession of menial jobs, close friend flutist Eric Dolphy invited Land to play a jam session at Dolphy's house. Both Clifford Brown and Max Roach came to check out Land for their musical projects on Dolphy's recommendation. "Eric had known me since the San Diego days and after I moved to L.A., we became good friends," Land says in that interview. "He was beautiful. Eric loved to play anywhere, any hour of the day or night. So did I." Land passed the impromptu audition and was soon a rising star in the jazz world, recording enough material to appear on the pair's 16 albums (including reissues) over the years. He left the employ of Brown and Roach in 1956 due to a family illness but continued to tour, notably with Curtis Counce.
More important, he began to play sessions and went on to become one of the leading horn players of his day. He's on literally dozens of the greatest jazz sides ever released. Just check out this roll call: five discs with Bill Evans, 13 with Dinah Washington, six with Thelonious Monk, 12 with Bobby Hutcherson, four with Wes Montgomery—and that's just the tip of the iceberg. It's an incredible discography, which includes countless recording sessions from the likes of the Platters, Sam Cooke, Ella Fitzgerald, Art Farmer, Donald Byrd, and many, many more. Notably, Land made the acquaintance of trumpeter Jack Sheldon (later band leader for The Merv Griffin Show) in 1957, playing on his album Jack's Groove.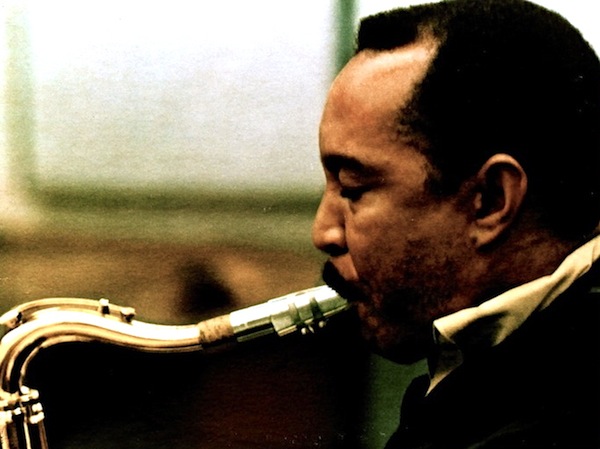 As a solo act he signed to Contemporary Records in 1958, releasing three highly acclaimed albums in quick succession: 1958's brilliant Harold in the Land of Jazz and Grooveyard, then The Fox on the small Hifijazz label in the year that followed. Contemporary Jazz records re-issued the album in 1969. He next surfaced on Jazzland Records with a pair of classics: West Coast Blues (1960) and Eastward Ho! Harold Land In New York (1960).
Hear Ye was next, seeing Land as co-group leader with Red Mitchell. It was released by Atlantic in 1961 and has been re-issued six times since, including one in 1967 under the "hip" title And Keep on Swinging. A series of indie releases followed, all stellar. Over the next four decades he appeared on every jazz label of note. The year 1963 saw the release of Jazz Impressions of Folk Music on Imperial and 1967 had The Peace-maker on Cadet, while 1969 found Take Aim issued by Blue Note.
It was during this time frame that several rock luminaries let their love of Land's music be known. On July 25, 1969, prog-rock pioneers Yes included a tribute tune called "Harold Land" on their debut album. When asked about the many cover versions of her husband's music, Mrs. Land replies, "Harold wrote a lot of music," says Mrs. Land. "It's hard to keep track of everything. There have been so many re-issues, especially since CDs came out. And then they change the names of things," she says of the record labels' practice of endlessly repackaging an artist's catalog. "But we do get statements, so we know what's out there."
Land continued to tour, including a stint in Las Vegas as star player with Tony Bennett. He also appeared on all the talk shows of the day including The Tonight Show, The Merv Griffin Show, and The Mike Douglas Show. 1971 saw a pair of releases by Land for Mainstream Records: A New Shade of Blue, and Choma. It also saw the initial release of Damisi, an album with a tricky history. It would be reissued in 1972, '74, and '91 (at least), with each issue containing a slightly different choice of songs. You need the 1991 CD re-issue to get it all.
Next, Land worked on a co-band leader production with Blue Mitchell, releasing Mapenzi for Concord Jazz in 1977. It was followed by Live at Junk in 1980, a release only available in Japan, the same year he joined the Timeless All-Stars, which included Hutcherson, Billy Higgins, Cedar Walton, Curtis Fuller, and Buster Williams. Xocia's Dance on Muse came in 1981, with A Lazy Afternoon on the indie Postcards label released April 1995.
Unfortunately, that would be his last release for seven years. He didn't release an album of new recordings again until 2001's Promised Land on Audiophoric. Sadly, Land passed away on July 27, 2001, but he remained fond of San Diego. "We would return fairly often," says Mrs. Land. "He would play there whenever he could, like when he would play the Athenaeum in La Jolla or even the Summerhouse Inn, for two weeks at a time. He loved it."
Reprinted from the San Diego Troubadour, December 2003.