"Guitar Player" Book Signing and Lecture at DG Wills Bookstore in La Jolla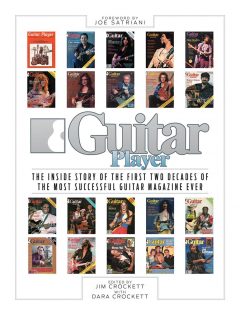 Editor Dara Crockett, and guitarists Craig Chaquico and Robb Lawrence will discuss their new book Guitar Player: The Inside Story of the First Two Decades of the Most Successful Guitar Magazine Ever, on Saturday at 7 P.M., 20 June 2015 at D.G.Wills Books, 7461 Girard Avenue, La Jolla, 858-456-1800, www.dgwillsbooks.com. After the discussion, Craig Chaquico and Robb Lawrence will jam on their guitars.
Guitar Player: The Inside Story of the First Two Decades of the Most Successful Guitar Magazine Ever is a reflection on Guitar Player's often pioneering early days, from its 1967 founding through its 1989 sale by founder Bud Eastman and editor/publisher Jim Crockett. This definitive first-person chronicle is told by many people important to Guitar Player's history, including Maxine Eastman, Bud Eastman's widow, and Crockett, who edited this book with his daughter Dara. Also here are recollections of key personnel, including Tom Wheeler, Jas Obrecht, Roger Siminoff, Mike Varney, Jon Sievert, George Gruhn, and Robb Lawrence; leading early advertisers, such as Martin, Randall, and Fender; and prominent guitar players featured in the magazine, including Craig Chaquico, Joe Perry, George Benson, Pat Travers, Country Joe McDonald, Pat Metheny, Steve Howe, Lee Ritenour, Johnny Winter, Steve Morse, Larry Coryell, Michael Lorimer, John McLaughlin, Stanley Clarke, Liona Boyd, Steve Vai, and many others. Among the many illustrations are then-and-now shots of performers and staff, early ads, behind-the-scenes photos from company jam sessions with such guests as B. B. King and Chick Corea, various fascinating events, and key issue covers.
Dara Crockett is a freelance writer, photographer, teacher, and artist manager.
Paul Kantner of Jefferson Airplane saw Craig Chaquico play as a 16-year-old, and invited him to join a series of recording sessions and concerts. During this period members of the Airplane, the Grateful Dead, Quicksilver Messenger Service and Crosby, Stills and Nash often appeared together in concerts and recordings, and Chaquico played alongside a number of musicians including Jerry Garcia, David Crosby, David Freiberg and Carlos Santana. His first recording was with Kantner and Grace Slick in 1971 on their Sunfighter duo album. Chaquico then played a crucial role in launching Jefferson Starship into commercial success, as the band eventually earned 20 platinum and gold albums.
Robb Lawrence wrote the original byline for Guitar Player magazine's "Rarebird" column on vintage guitars. He began his association with Les Paul in l972 and was his West Coast concert tech for many memorable shows. He is the author of The Early Years of the Les Paul Legacy 1915-1963 as well as The Modern Era of the Les Paul Legacy 1968-2009.
For more information: http://www.dgwillsbooks.com/