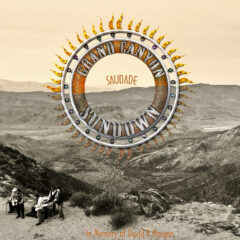 It's been 15 years since Grand Canyon Sundown released their self-titled album in 2007. Fast forward to their December 2021 release of Saudade, 13 original tracks of Americana-flavored tunes, all written and sung by Paul Cruz and Jason Postelnek on various tracks. The album is dedicated to David R. Morgan, who passed away recently but whose musical footprint is omnipresent throughout with his tasteful pedal steel and dobro passages.
It's a superbly crafted collection of life and landscape -flavored tunes supported by Jeff Spiegel on bass and Dave Wilkie on drums, highlighted by the harmonized vocal parts from Cruz and Postelnek throughout. Each track has its own personality with many of them bolstered by colorful chord changes beyond the usual garden variety choices. "Never Coming Back" sets the stage for the beauty and serenity of the Southwest, immediately featuring the solid musicianship of Postelnek's violin motifs, Cruz's Spanish guitar licks, and Morgan's distinctive pedal steel tones, followed by "Angels Are Coming," a Springsteen-like ballad embellished by soulful phrases from guest harmonica player, Junior Torres.
The whole band gets to play out over the sultry minor key blues tune, "Gone Inside," followed by "Down," a nice feature for Postelnek's fiddle over the haunting static chord pattern reminiscent of Hank Williams' "Kaw-Liga." Cruz shines vocally on the tender waltz, "Stay With Me"… "give me rivers of vain…give me your lips in the rain," followed by a 180 degree turn with "B Jam," where Cruz gets to strut his stuff on electric lead guitar riffs over the bluesy dominant ninth chord progression.
Perhaps the two best vocal harmonies happen on Cruz's tunes "Something About You"… "like a ship on the water blowing in the wind…there's something in your breath on my skin," and "Old Faded Pictures," a down home gospel goodie, sounding on par with The Band's The Last Waltz.
Postelnek gets turned loose on violin with burning licks over the minor-key gypsy-flavored tune, "Fire in the Sky," followed by his tune, "Shine," a cry-in-your -beer ballad highlighted by Cruz's deft lead guitar lines, as well as his reverb rich solos over "Broken Bottle Ring."
The album closes in true CSN&Y fashion with Postelnek's tune "Road of Life," with Wilkie joining in the grand finale harmonies amid the polyphonic riffs from Cruz's lead guitar and Postelnek's violin flurries. A fitting closer to an eclectic array of original compositions with reflective lyrics backed by strong musicianship from all, punctuated by a poignant lyrical finale: "we all wanna get high…but we are so afraid to die."