CHARLES BURTON BLUES BAND: Favorites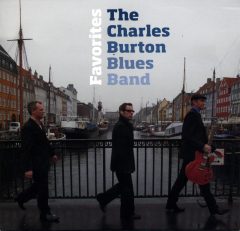 The cover art photo on Favorites by the Charles Burton Blues Band features the San Diego guitarist/vocalist and his rhythm section walking, with distinctively Scandinavian buildings in the background. Appropriate, since the blues veteran has split his time cultivating a following in Europe as well as locally. Plus, after several disc releases with various backing personnel, this one was produced by Danish bluesman Bjarne Gohlke and features drums and bass by fellow Danes Asmus Jensen and Arnold Ludvig.
Though the music here has international appeal, Burton and his guitar play good old American roadhouse blues, mixing in some interesting pop/rock choices on the new album. The 11 covers start with an old Duke Robillard/ Fabulous T-Bird stomper "Tell Me Why," which illustrates Burton's strengths — he can sing just fine and doesn't try to emulate others when doing so, and his guitar playing is clean and versatile. Depending on the needs of the tune, he will blend phrases of fiery Stevie Ray Vaughn-style Strat couplets or maybe chicken-pick up and down intricate blues scales (as on "Early in the Morning"). The guys in back aren't bad, either, they rock the house on "Turn on Your Lovelight," while Burton sneaks in some Allman Brothers licks and vibes that turn it into a mini-tribute. The best version of "Spooky" was done by another Southern blues-rock band (Atlanta Rhythm Section), and Burton's take on it is a standout track, as he shows some good jazz instincts, mixing tasty Wes Montgomery grooves with bluesy scales and clean string bends.
It's back to the blues for "Got My Mojo Working" and "Key to the Highway," and Burton makes these click by not trying to sound like Muddy Waters or Big Bill Broonzy, but singing straight up, and also not trying to reinvent the million other previous guitar covers by Eric Clapton and others. His playing combines economy, fluidity, and crisp phrasing, and he doesn't showboat.
The Brill Building provides Burton chances for some fun. First, "Little Sister," sung with just a hint of Elvis intonation and the sharp guitar fills the song always needed, then "Poison Ivy." This novelty-pop nugget is transformed into a blues rocker that churns with guitar power and features a lightning solo. The medium-slow ballad "Last Night" gives Burton another chance to let his fingers go, and he again comes off as one of those guys who would rather play three clean notes that sound great together than six cluttered ones that sound fast. And, he can play those six fast notes great too, but only when necessary. What bluesman doesn't want to play "Gangster of Love?" This Johnny Watson song is a minor classic and Burton closes out the disc with an energetic version that includes a blazing solo that leaves nothing in reserve. It's four minutes of grinding blues groove with a smile on its face.
Favorites offers music that is familiar, but played superbly, and should gain Charles Burton new fans both in and beyond the blues crowd, here and abroad.