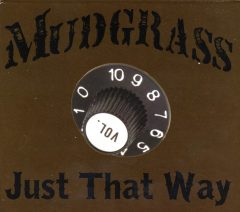 Sometimes the best measure of good country-rock music is how much fun it is to listen to, rather than whether it is necessarily great art. Mudgrass is a local trio who were formerly members of Shoestring Strap, a roots band that released two discs of music with songs like "If Jesus was Whiskey." The lineup is Brennan Orndorff (guitars/vocals), Dave Lowenstein (bass/vocals), and Mark Markowitz (drums); their new disc is Just That Way and features a dozen songs penned by Orndorff and Lowenstein, who share lead vocals.
While the goal here seems to be to put together some music that mostly stays in the country-rock bar-band niche, while having a musically good time doing it, several songs rise to another level and really grab the listener.
The title tune is hard rockabilly, as Orndorff shows some six-string flash while singing about being left alone to his reckless ways. Lowenstein wrote and sings "Tongue Tied," and Markowitz punches the beat — his work on the skins provides a lift to the rockers here in particular. The guys step outside the box a bit for "Struttin'," a radio-ready highlight that puts together honky-tonk influences, a tongue-in-cheek vocal with old-time music hall riffs, and a perfect arrangement built around steel guitar, "Well everything would be so fine/ If you would be so inclined/ To be my baby." Things don't let up; "Where the Creek Meets the River" is a another strong track that has more of hard country-rock feel, as the singers trade off the lead vocal and the tell us of a love, thought eternal, now a memory.
Orndorff does a nice job on the rock-edged "Can't Hold Me Down," which builds with nice dynamics and hangs in there once it gets cranked up; like "Creek" it has some Crazy Horse DNA in it. Good lyrics make good country-rock, so of course "Booze Is the Answer" finds Orndorff's weary vocal extolling that "Most of the cutest groupies are right about half my age" and that his medical dope doesn't answer all his problems, "Everything I lost came at such a great cost/ To my mind, my body, and my spirit." His guitar work helps capture this wistful, memorable bar-band anthem.
Lowenstein's "All My Friends" is a catchy country tune with swing verses, slowed bridges, and an infectious melody. Orndorff plays sharp pedal steel licks; throughout the disc he is able to cover a lot of guitar turf. The disc closes with "Pinball Prison Blues," and, you guessed it, the song is "Folsom Prison Blues" with the lyrics to "Pinball Wizard." What really makes this irresistible tune work are the details, like Orndorff's Johnny Cashisms in the vocal, to stark '50s guitar lines that morph into Townshend-style power chords. Good idea, good execution, hello radio.
With Just That Way, the members of Mudgrass use experience gained playing and recording in earlier projects to combine veteran touches with good songwriting. And, it is fun to listen to.