DUSTY & THE LOVENOTES: Better World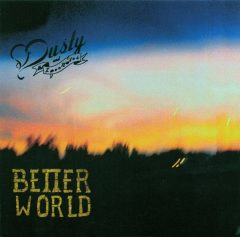 Hailing from Ramona, Dusty and the LoveNotes are a roots quartet built around singer/songwriter/flutist Dusty Recor and guitar/harp veteran Indian Joe. After an EP, 2010 saw the LoveNotes debut CD, What Did You Expect?, with an aggressive, crunchy, rocking sound — all songs with electric guitars. They are back with Better World, writing and arranging 10 original country folk-rock tunes, that include the contributions of Floyd Fronius on violin and drummer-about-town Brian (Nucci) Cantrell. On the new disc, Joe still carves plenty of licks, but there is a much more eclectic mix of moods, textures, and overall vibe, helped by the addition of Fronius, Recor's flute work, and plenty of acoustic guitar.
It all comes together on the opener and title song. Recor's simple tune about improving the world through cooperation is sung/spoken over smooth lead guitar fills and pleasing violin accents. "Lead a Horse" takes the promise shown in the opener to another level; it is a catchy country-gal rocker that glides as Joe's slide duels with Fronius' fiddle, and Recor is perfectly in the pocket telling her lying lover, "You got by on good looks/ Those good looks got up and left." It is a standout track, and more are to come.
Even after repeat listening, "Devil's Clutch" is a minor-chord blues ballad that seems mired in verses that recall '60s songs like "I Had Too Much to Dream Last Night" and "Summer Wine" and a way-too-loud and overdriven guitar track by Joe, only to suddenly break into unexpected, almost beautiful choruses with the best harmonies on the disc. Go figure. "Taos" has a Native American vibe, as a good arrangement mixes Nucci's drums with haunting flute passages; Recor weaves a tale of her experiences in the wide open country, and with the folks who live there — a good match of message, package, and delivery.
There are some soft, folky acoustic moments on the disc that work very well. "Give Me Some Time" has Recor in the best vocal on the disc, and her lyrics about "I need to miss you to the bone/ I need to miss your lips/ I need to miss your smell" resonate, as Joe's harp touches answer her, and sweet harmonies give the choruses an extra payoff. "The Things You Do" shows that Recor and Joe may have softened up the sound on this disc, but they can still jump into Bonnie Raitt/Linda Ronstadt territory and rock it up.
The folk song "Remember Me" is acoustic, with pretty flute fills throughout, as she sings "All of my life I've reached for the stars/ Orion above kept me from harm." When the kick-ass cowgirl can pull this kind of song off, it is called range, Recor shows it here.
On Better Life, the listener gets the feeling that Dusty Recor is a singer who is finding in this material an opportunity to show off her full potential. Props to Indian Joe for his part in the shift in musical focus that draws it out, with such enjoyable results.