SARAH MAISEL: With Love, Sarah Maisel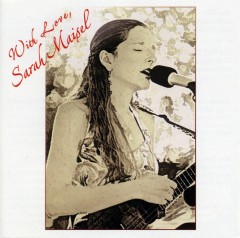 Sarah Maisel has established herself as a solid presence on the local jazz scene following the success of her 2010 debut, Have Uke Will Travel (see March 2012 San Diego Troubadour). Her unique combination of almost astonishing skill on ukulele and expressive, charming vocals is something different, crossing genres and establishing a sound completely her own. She has been busy, with two subsequent full-length CD releases, including her new one, With Love, Sarah Maisel. Fortunately for Maisel and the listener, she sticks with the same formula as on her earlier discs: a mixture of instrumentals and vocals that draws from Tin Pan Alley, other pop standards, and a couple of Hawaiian hapa-haole tunes. All are performed with an easy, breezy, swing jazz style.
Maisel and producer Tim Coffman opt for a sound that is mostly Maisel, bassist Paul Tillery, and drummer Duncan Moore arranged as a jazz trio. This is more testimony to Maisel the ukulele whiz, without overdubs she makes the tenor uke sound like a hybrid somewhere between jazz guitar and piano (the occasional keys and guitar of the debut disc are gone).
"Blue Skies" is one the American Songbook tunes that is transformed as Maisel's descending chord patterns and lyrical solo phrasing, sounding like a good jazz guitarist playing a nylon-stringed guitar, with an eighth-fret capo. Her vocal on this one and the standard "How High the Moon" are clear and fresh, and combine with the brisk uke melodies to breathe a new life into them and other tracks. Her uke transcends its limitations, and her voice is alternately intimate and smoky, as on a captivating reading of "Autumn Leaves," as French gives way to English over a smooth lattice of string accompaniment.
Maisel steps a bit out of the box for "City of New Orleans," Steve Goodman's train song that is more of a folk anthem than a jazz piece and though the version tries hard, this might be one of those songs that might not work as well as a jazzy uke tune. No worries, "Yesterday" has been covered by everybody, and here it is the first uke instrumental and a jaw-dropper that shows Maisel's picking prowess and ability to interlace several themes simultaneously. A mandolinist or guitarist that could play this tune this well would be considered a master, here it is on a ukulele.
The two "half-white" Hawaiian songs here add steel guitar — "In Your Hawaiian Way" and "When Hilo Hattie Does the Hilo Hop" — both have a traditional island sound that is more like the ukulele the listener remembers growing up (except for the sharp solos). Maisel makes a closing statement with "In a Sentimental Mood." This song is a uke solo and resonates with the clear, precisely phrased and complex kind of melody that comes only from the fingertips of a developing virtuoso.