FREEBO: Something to Believe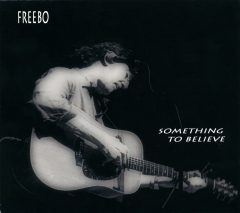 Freebo, an acclaimed session musician (bass, guitar, tuba) with luminous credits, who toured with Bonnie Raitt for a decade, is also an accomplished — and award-winning — songwriter. Something to Believe, his fourth solo album, showcases 10 of his songs (with various co-writers, mainly Robert Tepper and Karen Taylor-Good) and a cover of Dan Navarro's "I Don't Believe in Yesterday." Freebo's songs contain stylistic elements from many genres, including folk, blues, country, and rock — a fusion often referred to as Americana. All of the songs share a gentle, upbeat sensibility and thoughtful, clever lyrics (delivered clearly enough to be understood by the listener). Freebo's tunes also share simple, crisp arrangements (usually just guitars, bass, and drums), featuring top sidemen, enlivened in particular cases by an accent instrument: French horn, accordion, trumpet, cello, violin, viola, organ, or piano. The versatile Freebo sings lead vocals on all tracks (and sometimes overdubbed background and/or harmony vocals as well) and plays fretless bass and acoustic guitar, displaying effortless mastery on all counts.
The opening track, "Standing Ovation," is a lighthearted reflection on the meaning of life: "You write your own story/As the pages unfold/But you're never quite sure/Of the ending/Maybe it's destiny/Maybe it's choice/Maybe we're all/Just pretending/In the tale of a lifetime/If it all comes around/And you only receive/What you're sending." "When There's No Place Like Home" is a non-maudlin and non-strident nod to the homeless and dispossessed among us. In "She Loves My Dog More Than Me," Freebo, a longtime and unabashed dog lover, frolics with a humorous Shel Silverstein-esque story about how a newly adopted canine changed the dynamic of a relationship: "Now a man's best friend/Gets the girl in the end/And I'm left holdin' the bone."
"My Personal GPS" is a love song with — yes — a GPS theme, with some slick guitar licks by Fuzzbee Morse. One of the album's most poignant songs, the title track "Something to Believe," ponders man's quest for answers. "On a Parallel Together" pays homage to the importance of companionship in life's journey, with ethereal background vocals by Marcy Baruch. My favorite song, "If Not Now When," is a jaunty reminder that life is short: "It's time to take this leap of faith/Without a net/Hello to Destiny/Goodbye Regret."
"In the Afternoon Heat" has a funky beat, with searing electric guitar by Fuzzbee Morse. "I Don't Believe in Yesterday" is about the importance of moving on: "So say goodbye to Way Back When/And all that might have been/No it doesn't matter why or how/They don't mean nothin' now." The album concludes with the lively "Sometimes It's for Nothing," a rockabilly romp featuring the inimitable Albert Lee on electric guitar.
Something to Believe has all the bases covered: catchy melodies, smooth vocals, inspiring lyrics, exceptional musicians, and clean arrangements. It is a treat.