Chiara Capobianco, harpist from Milan, now makes magic here in San Diego. First feat of fascination: how on Earth does Chiara fit her Salvi harp into that Volkswagen Bug? Second surprise: every gig she plays results in encore bookings. Third thing: she can arrange and perform any overplayed tune in such a way that it becomes a welcome, reborn favorite.
Musical Beginnings
As a child, she started on flute, inspired by her older sister's silver choice. Chiara adored the flute and her sister but often ended up holding billowing banners up in front of their town marching band, in a customized uniform, instead of filing in back with the hidden woodwinds. Certainly, this foreshadowed a fashionista lifestyle for Miss Capobianco. Yes, it was just a marching band in little Rozzano, but it was a suburb of Milano and, even at seven years old, Chiara was game for music, fashion, and art.
As an advancing pre-teen student in the local community music school, she was asked to list three instruments to consider pursuing. Obviously, flute was first on the list. Just as obviously, piano was a strong second (a preference from her parents). But the avuncular gentleman in charge of music matriculation procedures kindly insisted Chiara jot down a third instrument. "Do not leave the third slot blank…write in an instrument name!" He said, earnestly.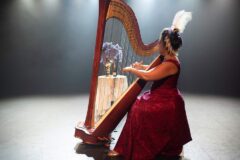 For some reason, Chiara wrote "harp" for the third slot. She knew no harpists. She had never really seen a harp in person nor remembers hearing one, particularly. She thinks she might have seen one in the background of a movie set, or in a painting? So, in this middle school setting, with too many flutists and too many keyboard players, somehow harp became her instrument, using a rental.
By the age of 11 she had her own $10,000 harp and by 15 she was supporting herself financially with harp gigs. After her Milan college conservatory degrees, she intended to take a break from her harp-centric life and go to London for a language program, but not before her mother took a special course and custom built a small travel-friendly harp for Chiara to carry with her. London learned to love that little harp!
Since then Chiara has kept busy on harp, from international jazz festivals to Appalachian music retreats to high-society European salon gatherings. Her musical career has taken her from Milan to Munich to Bombay to Bangkok to Berkeley Jazz.
She spent time as a university instructor in Thailand but also was a cruise ship harpist at sea. Along the way, there were perils: a freak wave almost capsized the QE II, but her unattended harp somehow stayed perfectly perpendicular in the ballroom!
Here, in San Diego County, Chiara has a busy month at the close of 2021. Along with her many experimental activities with local DJs, performance-art outings and various theatrical happenings, she has a couple of promising holiday appearances. On December 7th she gives a matinee solo performance at San Diego Central Library's Chamber Music Series. She was asked to present a seasonal show, and I suggested a program of "Harp Chestnuts for December 7th." A musical chestnut implies a favorite—but perhaps overplayed—work. We researched various adored works that had connections to December 7th, scattered throughout the decades and centuries (as premieres, etc.) and Chiara is creating musical arrangements that deservedly re-invigorate these once-all-time favorites.
In addition this month, she'll premiere as principal harpist for the Coronado Philharmonia Orchestra in a program led by the orchestra's founder/composer/conductor Osvaldo Mendoza.
thecoronadophilharmonia.org
I spoke with the multi-hyphenate Mendoza about Chiara's recent audition for the position.
"Chiara illuminates the room when she enters and it's obvious that she has a special energy that will be a positive influence for the group." He relayed that her years of conservatory training shone through the audition, and that, as a performer, her special aura shines beyond her years of technique work and well beyond her innate, gregarious charm.
"You can hide behind words, but you cannot hide behind music," she says.
*************
Saturday, December 5, 2pm, Coronado Performing Arts Center at Coronado High School, 650 D Ave., Coronado
Admission: $15-$25
TheCoronadoPhilharmonia.org
Coronado Philharmonia Mission Statement
To serve the community of Coronado by providing professional music concerts with a wide range of traditional and new-music repertoire for chamber orchestra. Create opportunities for musicians to build relationships through their performances. Inspire and educate youth through diverse educational experiences.
*************
Also look for Chiara on December 7th at the Downtown Central Library:
FALL CONCERT SERIES
Holiday Chestnuts for December 7th: A concert to celebrate the winter season
Tuesday, December 7, 2021 @ 6:30pm
9th floor Shiley Special Events Suite
*************
For more information (plus you can register for this free concert) here
More about Chiara Capobianco
Website: www.chiaracapobianco.com
YouTube: www.youtube.com/channel/UC2oMPyBwhoCR8HaJAehgxng
Facebook: https://www.facebook.com/ChiaraCapobiancoHarpist/
YouTube: www.youtube.com/user/chiaraarpa
News: http://gighive.com/the-buzz/