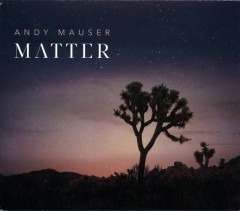 Andy Mauser is a singer/songwriter with one foot in the modern folk tradition that was forged in the sixties, when men like Tom Paxton, Phil Ochs, and Bob Dylan introduced new approaches to lyrical content and influenced not only their fellow folksingers but also pop and rock songwriters for generations. His other foot is planted in the tradition of soul, the sounds and stylings of Motown and Muscle Shoals that he taps into with his vocal phrasing and approach. This melding of folk and soul takes center stage on Mauser's debut disk, Matter, and the 12 songs on this disk go a long way to show that this young performer has a great deal of promise.
A few tunes stood out for me. "Work" is about, well, work. Unless your daddy has a ton of money in the bank, it is what you have to do for decade upon decade of your life. And, as Mauser says, it is something that you even have to do on "boats, and planes, and submarines." The one up-tempo tune, "Claps in the Key of B," is in fact in B. If D minor is the saddest of all keys, B is the one that causes the most angst in musicians. A lot of them never learn to play anything in that key. Perhaps that explains why the accompaniment on this tune is restricted to harmonica and percussion. Francisco Oldmen Kam lends a rap to "Grapefruit Hustle" that really helps to turn this tune into a standout performance.
Produced by San Diegan Archie Thompson, Matter has a great overall sound. Thompson performed all of the recording chores and mixing. He also contributed saxophones, bass, guitar, and a whole bunch of other musical stuff, too. There is some great musicianship on display on this disk. Jeremy Miller performed the mastering. Other contributors include Jake Najor on drums and Mike Thompson on accordion. Singer Whitney Shay makes an appearance on "One Track Mind" and T.J. Moss delivers some backup vocals on "He Said She Said."
With MP3s and folks choosing to download single songs instead of a whole CD's worth of music, the idea of a CD as a packaged whole has become a bit old fashioned. Do people still listen to whole CDs anymore? Nonetheless, as a CD reviewer, that is how I listen to a disk. So I wish that there had been more variety of tempos, styles, and song forms.
I know with a lot of popular music the vocal is buried in the mix. I don't know if that is what is going on here or if it is the way Mauser phrases and enunciates, but I had a difficult time throughout this recording of being able to distinguish the lyrics, hearing exactly what Mauser was singing. I don't believe that he wanted to lead me into a land of scuze-me-while-I-kiss-this-guy mondegreens, but that's where I wound up.
Matter is an overall good effort from a promising young performer. I hope to hear more from Andy Mauser.