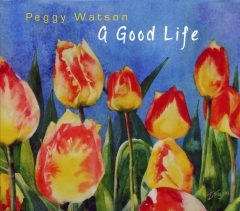 In Peggy Watson, the San Diego folk music scene boasts a jewel that continues to shine year after year, and album after album. No surprise, then, that her latest disc (her ninth), A Good Life, is a tour de force. She possesses an otherworldly voice, writes great material (herself, and together with co-writers David Beldock and Dave Blackburn), has a studio crew that is top-shelf all the way, and–probably because of her experience of having so many previous releases–seems to know exactly what her strengths are.
Watson wrote five of the 12 songs, co-wrote six others, and the production by her and Blackburn is almost breathtaking. It flawlessly captures her remarkable ability to handle moments of light folk with dancing melodies and soaring harmonies, then to smoothly gear down to handle an interesting jazz vibe, only switch from her angel's breath persona on yet another tune to nail a pop or country ballad. Comparisons of her vocal instrument to Joan Baez, Judy Collins, or early Joni Mitchell are fine but might short Watson's unique ability to display not just amazing vocal range, but style range as well, on her own terms.
The title song (and others here) benefits greatly from a sharp arrangement, featuring airy layers of guitars and backing vocals as Watson sings about her experiences, including as a singer: "It's small time, I don't mind… Playing for fool's gold, I've been told." Her soothing soprano combines with some perfectly executed grand piano by Ed Kornhauser to lift the lullaby "Wake Up Little Mama." Watson sings a folk tune about a past relationship, "Since I've Felt Like This," and it is a disc highlight. There is tangible yearning as she wonders about the warmth of a kiss from long ago, driven home by a three-part harmony chorus.
"Baby, I Love You" is a soft country-pop shuffle that shows Watson completely at home outside the folk box, and the catchiness and arrangement of the song burns itself into the listener's head. Even more eclectic is her turn on "My Old Friend," a wonderful jazz ballad that she takes complete charge of, another standout track. The detour from folk music includes "Crooked Girl," which has minor chord/Latin/funk bloodlines as it drums up an atmospheric vibe that gives Watson a chance to stretch her persona, "I've been down all over the world/ Nobody wants a crooked girl."
The most beautiful track here is "Blue Scarf." Finger-picked guitars are the framework, as Watson and what sounds like a choir of angels soar, singing about "Sapphire skies and fields of green." There are two folk songs late in the program that are given almost stripped-down, old-school arrangements–and they are both great tracks worth a mention: "Most of All" and "In the Daylight." Both will trigger memories of early Mitchell album fare and non-traditional tracks by Collins. If they don't, "Gone Just Like a Train" will, with country-ballad themes covered by both icons, giving Watson's A Good Life a closer that bids a wistful farewell after a very satisfying musical journey.