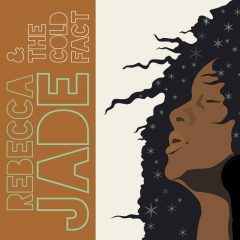 Fresh off their victory win at the 2015 San Diego Music Awards, as Best Blues Band, the stars in the universe seem perfectly aligned for Rebecca Jade and the Cold Fact. When one combines the talents of lead singer Rebecca Jade, percussionist Alfred Howard, keyboardists Tim Felten and Josh Rice, bassist Jason Littlefield, guitarist Sean Martin, and drummer Jake Najor, there is definitely some serious mojo workin' overtime.
The band's latest album, the eponymous Rebecca Jade and the Cold Fact, is a surefire winner by way of its funky, soulful ode to the human spirit and its perseverance. Lady Jade evokes a certain passion, while possessing a voice reminiscent of any one of the performers in the '70s group, Three Degrees, by way of Alicia Keys. She is not afraid to jump through big hoops to give it all she's got to resurrect life into Howard's lyrical musings. One of San Diego's most prolific songwriters, who composed all 12 songs on the album, Howard relinquishes his vulnerabilities and transgressions to challenge and propel Jade, as a vocalist, into sacred terrain usually reserved for musical veterans who know their way blindfolded through R & B/Funk/Soul Stax territory.
The opening track, "Stranded," jettisons across the great divide, by way of Bobby Womack's "Across 110th Street," to fulfill its purpose and get out of one's predicament unscathed, whatever that may be. Inner city blues never sounded better than it does on "Good Intentions." The aural funkster does some heavy lifting with its bold, lyrical imagery, which bounces back and forth between urban sprawl, the liquor store on the corner, and "the canyons to the skyscrapers." Once the song is over, it's only a New York minute before it segues into "Tint," a vintage number that Al Kooper-the legend who immortalized Bob Dylan's 1965 classic, "Like a Rolling Stone," with his signature Hammond B3 organ flourishes–could have effortlessly grooved on.
This woman has seen better days than when it's "Dark Out," which has listeners praying that Jade will make it through the long, lonely night. On "Further Again," Jade is mesmerized by her lover, and no matter what the risks of dangerous love entail, she is willing to sacrifice it all to be a part of what her man's about.
"Coming Home" is a throwback to the mighty Muscle Shoals sound, with its full-bodied horns and verve. "Regret" reveals the true nature of an imperfect, cheating lover, who finds herself on the giving and receiving end of infidelity, while ultimately seeking redemption through forgiveness.
The closing track, "Weather the Storm," summons Jade to keep moving on, despite her heartache and life's adversities. It serves as an important reminder to stand firm against any tempest that comes our way, because sooner or later, we are all going to have to weather the storm.