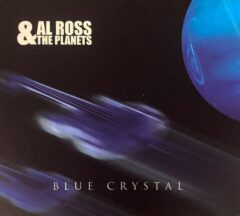 For nearly 40 years Al Ross and the Planets have been rocking London and much of the rest of Britain. Their latest CD, Blue Crystal, offers up nine original nuggets that continue their tradition of mixing soul, rock, and pop to create catchy and memorable music.
There's no mistaking that these guys are British. While their music definitely has its roots in the American South, with the boatloads of soul that one would expect to come out of Muscle Shoals or Memphis, there is the occasional Beatlesque chord change or phrase. Lines and riffs take interesting turns outside the cannon of what American musicians have done with their guitars, basses, and pianos. This is one of the most delightful aspects of Blue Crystal.
There are a LOT of musicians on this recording. I counted 17 in all. On most of the tunes it sounds like they were able to fit them all into the recording studio. Across the board, the musicianship of all the crew is noteworthy. Al Ross and the Planets go for the big sound throughout the recording. Sometimes they get Edwin Hawkins' Singers big. Sometimes they get Mormon Tabernacle Choir big. Sometimes they get Mahler 8th Symphony big. Most of the tunes evolve into big choruses. Some of them evolve into big, BIG choruses. The title track quickly develops into a swelling, pull out al the stops, chorus, and "Crossroads," which opens the disk, is something of a chorus looking for something to do until the song ends, including a (once again Beatlesque) pocket trumpet solo.
The packaging for the CD is sharp and attractive. Recorded at Abbey Road Studios in London and Echo Studios in Buckinghamshire, the engineering and production of the disk is disappointing. I had to play with the nobs on my CD machine a fair amount to rid the playback of some muddiness in the bass.
If you like British blues based pop, or if you just love a big, big, pop chorus, you may want to check out Blue Crystal by Al Ross and the Planets.