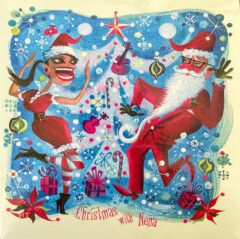 A Charlie Brown Christmas remains everyone's favorite Christmas album. Slightly expanded from the soundtrack of the Peanuts cartoon television feature of the 1960s, the work of Vince Guaraldi and his sidemen is simple, profound, and sublime. The music takes the listener through a sonic landscape from pure joy to quietude, and even to reverence.
The central achievement of the Charlie Brown Christmas album is that Guaraldi imbued the secular aspects of Christmas—gatherings of friends and family, walking in a snow-laden landscape, decorating a tree— with the awe and wonder that comes to us from the sacred realm of the holy day. There is not one moment of sentimentality in the recording.
Since the 1960s, others have followed in Guaraldi's footsteps, making Christmas recordings with pared down ensembles, giving quiet interpretations to holiday standards or new songs of their own
Nena Anderson follows in this new Christmas tradition with Christmas with Nena, an EP of five Christmas songs that tug at the heartstrings, give pause, and delve into the more intimate joys of Christmastime. The recording is an absolute gem from beginning to end.
Anderson chose three of San Diego's best musicians to back her up: Adrian Demain on guitar, Rob Thorsen on bass, and Duncan Moore on drums. The trio gives Anderson a lot of room for her capable vocals.
Three of the songs—"Christmastime Again," "Christmas in Mexico," and "Kris Kringle Wants to Mingle"—are new to me and are songs that Anderson penned. The singer follows these with two holiday classics, "What Are You Doing New Year's Eve" and "Have Yourself a Merry Little Christmas." Anyone listening to this EP who doesn't get at least some feelings of peace on Earth, goodwill to men is more coldhearted than the Grinch himself.
Oh, before I forget, the cover art is the best cover art of any Christmas record ever.