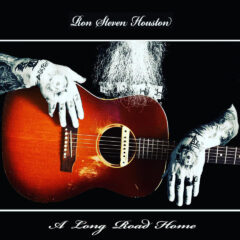 The long-anticipated debut CD from singer/songwriter/guitarist Ron Steven Houston, A Long Road Home, is a winner from start to finish on many levels throughout this 17-track project, beautifully recorded, mixed, and produced by Jeff Berkley at his Ohm Grown Studio in Oceanside. Houston takes us on a kaleidoscope of his life's journey of substance abuse, regrets, self introspection and reflection with many lyrical moments of despair but also hope in the end.
Immediately apparent is that Houston has gathered together an all-star cast of musicians to establish a full-band sound to accompany his multidimensional songwriting repertoire, highlighted by the omnipresent hot licks and solos throughout by multi-instrumentalists Doug Pettibone (lap and pedal steel, electric guitar), the late great Dennis Caplinger (dobro, banjo, fiddle, mandolin), and Berkley (guitars, bass, six-string banjo), along with perfectly placed backup vocals by Cathryn Beeks and Chaska Potter, all nicely supported by the rhythm section of Jason Littlefield, upright bass, and Josh Hermsmeier on drums on most all the tracks.
The first track, "My Last Round," immediately draws you in with a funky jug band groove à la The Band's "Up on Cripple Creek," with Sharon Whyte's organ groove accompaniment leading the way behind Houston's self-deprecating lyrical humor, "when I get to Heaven's gate… I hope God is there for my last round."
Houston's moments of regret are apparent in "Back to Mississippi"… "my best friend… he ain't coming home… I left him there all alone," and in "Hangovers," "I look back again… wondering just what I might have been," as well as "That's My Life," "too many years getting high with my friends…the life I chose to live." His storytelling is well designed around garden variety chords reminiscent of Johnny Cash, Kris Kristofferson, and John Prine, whom he makes a special dedication to in the liner notes.
Houston is right at home with his outlaw country roots as well, à la Hank Williams Jr. and Waylon Jennings, illuminated in "The Whiskey's Always Gone," "I can't seem to do right… I always seem to do them wrong," and in his forward-looking tune, "Find My Way Home, "I'm not the man I used to be… I just want to go back home and let my soul fly free," referencing his now two years-plus sobriety.
"Old Dirty Dog," "Do Outlaws Shed Tears," and "Lifetime of Sorrow," "I woke up this morning… looked in the mirror… I couldn't believe what I saw," are all nicely crafted "cry in your beer" storytelling tunes. In addition, Houston's eclectic songwriting also features two tender ballads, "Take a Walk with Me," composed after the tragedy of George Floyd's death, and "Just Like You," "I'm not the man I used to be… and on the surface it's plain to see."
Houston, a Louisiana native and San Diego resident since 1987, includes four cover tunes into the mix, most prominently two classics, "Truck Drivin' Man" and "Friend of the Devil," both cleverly arranged at half the tempo of Buck Owens' popular version of the former and the Grateful Dead's popular version of the latter.
The closing track, "The Last Note," is a haunting finale and conclusion to an impressive debut album by Houston as the band has left the building with only the solitude of Houston's guitar and vocal duet with Potter remaining as he answers rhetorically to what has been a long road home for him, "why does it always seem to rain on me?… the time has come to end the misery."