This month includes five questions for opera singer Victoria Robertson and percussionist Nathan Hubbard, album reviews for Anton Barbeau, Chris Collins, Jamie King and Lannie Flowers, plus a Steve Marriott comp!
FIVE QUESTIONS FOR VICTORIA ROBERTSON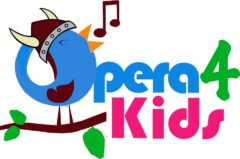 Soprano opera singer Victoria Robertson came to international attention last year when she gave a series of Sunday afternoon porch concerts to help her neighbors deal with the stress of pandemic life. While Robertson enjoys performing, her biggest role in recent years has been in bringing opera to the younger set through her organization, Opera4Kids. To that end, Robertson has written an opera for children, The Enchanted Tail, which can be seen on YouTube performed alongside tenor and Opera4Kids partner, Bernardo Bermudez. Filmed at the Spreckels Theatre, it's a lively production with members of the San Diego Symphony as well as fun costumes and sets. Look for a soundtrack recording to be released soon. Here are Five Questions for Victoria Robertson.
How did you get involved with opera?
I grew up with music in my elementary school. We were made to play violin K-6, take choir, and even some music theory. It was then that my teachers discovered I had a musical talent and a good voice. I sang musical theater all throughout my youth and when I turned 18 and moved to San Diego for UCSD, I auditioned for the San Diego Opera Chorus. It was my first opera experience and I was hired to sing with the San Diego Opera for 12 seasons. After that I won several singing competitions and began performing operas and concerts across the country and even internationally.
How surprised were you by the response to your porch concerts?
I first sang from my front porch in April 2020 to celebrate Easter. All churches were closed and no one had a way to gather so I stepped out on my balcony and sang hymns from my porch. Some neighbors gathered to listen and then I made a promise to them to perform every Sunday during the quarantine to sing opera concerts from my front porch at 12 noon. Once this hit the cover of the San Diego Union-Tribune, I was surprised at the flood of media response.  All the local news stations appeared at my door and Reuters as well.
How big a crowd were you drawing each week?
The following Sundays yielded as many as 300 people standing on the street waiting to hear me sing and it was an uplifting time despite the terrible situation.
What was the response like from your neighbors?
The neighbors told me that I helped them to get through the pandemic at a time when there was little to inspire, but it was they who made it bearable for me. I would prepare each week with music, guest musicians, and would dress in concert gowns as if it were a concert hall. This helped me stay sane and keep the music alive. To use music to inspire and uplift is the greatest gift I could have.
 How did you spend your down time over the last year plus?
We moved Opera4kids to digital during the pandemic and created a wonderful series of educational YouTube shows for kids about all the instruments called Musical Make Believe.  YouTube.com/opera4kids
FIVE QUESTIONS FOR NATHAN HUBBARD
Composer, instrument builder, and percussionist Nathan Hubbard is easily one of the most gifted and adventurous musicians to call San Diego home. Anywhere you care to dip into his discography you'll find amazing music, across the genres. Upcoming and recent releases include a third outing from a collaboration with Steuart Liebig, Toques 03, and a further collaboration with Keith Kelly, Home and Away, and Stealing Stars, which teams him with Heather Marie. He also contributes vibraphone to country singer Katie Jo's recent debut album, Pawn Shop Queen. Meanwhile, look for an album this year from the Nathan Hubbard Octet, as well as Shadowfigure, which finds Hubbard in producer/beatmaker mode. Here are Five Questions for Nathan Hubbard:
Who are your musical influences? Who inspired you to play your instrument?
I have a million influences, however Max Roach, John Bonham, Elvin Jones, and Tony Williams inspired me to play. I also grew up listening to Hip Hop and producers like DJ Premier and The Bomb Squad inspired how I hear the world.
You are known as a drummer-percussionist. Did you ever consider another main instrument?
My main instruments are a drum kit, tuned percussion, and hand drums, and I play a bit of piano. I briefly played tuba in high school but it was only a fling.
How would you describe your music?
My original music is non-genre specific and mostly pitch based. Critics have referred to it as avant-garde, experimental, and most of my records get put in the jazz section of record stores.
Where's the strangest place you've ever heard your music playing?
An iphone commercial.
What's your favorite thing about being a musician?
I love performing live, studio work is fun and challenging, but for me the best thing is working on my faults and pushing myself to be better thru steady practice and work.
www.nathanhubbard.bandcamp.com
REVIEWS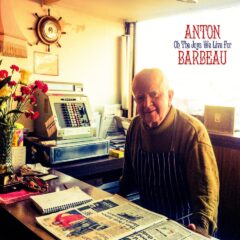 Anton Barbeau, Oh the Joys We Live For (Big Stir 0055)
The basics: A dozen quirky, sometimes folk-influenced, often drum machine-backed pop rock tunes. Fans of Sparks, TVP's, or Robyn Hitchcock will appreciate Barbeau's way with a melody and lyrical twist. Titles such as "One of Her Super Powers," "When Life Brings You Beer," and "Die Smiling" give a clear indication of the creativity on display, the tunes matching the clever monikers. Also notable is the Nilsson-esque "I Love It When She Does the Dishes," but there is plenty for adventurous pop rock fans to dig into here.
Chris Collins: Good on Ya John (CCMN CD-002)
A five-track tribute to John Lennon, recorded by Chris Collins, best known for his work as the drummer in Mod Fun. Collins has recorded a Lennon song each December for over a decade; here, he collects his favorites, four Beatles tracks: "This Boy," "The Ballad of John and Yoko," "Across the Universe," and "Don't Let Me Down," plus "Imagine." It's largely a solo affair, though Mod Fun bandmate Mick Hale contributes guitar and vocals to "Don't Let Me Down." It's a nicely done tribute, with the songs faithfully performed, which, while not essential, will make a nice listen for Beatles fans who enjoy cover tunes of Fab Four classics. Meanwhile, Mod Fun completists will want to add this disc to their collections, which shows another side of their talented drummer. 
Lannie Flowers: Home (Spyderpop)
The basics: 14 pop rock tunes. The single here is the title track, a bouncy piano-led pop tune with a nice psychedelic coda, but there are plenty of gems on offer. Also good are acoustic guitar shuffle "My Street," pop groover "TV Off" (love the blast of harmonica and the fuzz guitar solo), Lennon-esque rocker "It's All Over," while "Shine a Light" sounds like a lost mid-seventies classic, complete with a twin lead guitar break and a stirring string arrangement. Home is a really good album that really grows on you with repeated listens, an excellent showcase for Flowers' tune smithing.
Jamie King: Anything Is Possible (Self-Released)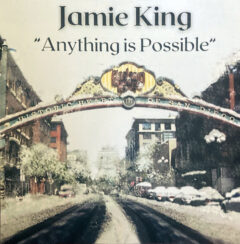 The basics: Four heart-felt tunes from acoustic troubadour Jamie King, with additional guitar and harmonies from Steve Pearson. With two guitars and voice, at times these songs sound like demos, and it would indeed be interesting to hear the songs in a full band treatment. There are some nice harmonies throughout, with the two best tracks being "Sitting Pretty," a standard strum-along tune elevated by some nice 12-string picking, and "Freedom Bird," a Vietnam war-themed tune that reminds me of Warren Zevon in the delivery and subject matter. www.Jamiekingacousticrnr.com
Joe Normal: We Are the Normal (NJ Phonograph 1111)
The basics: A two-track CD single from this New Jersey pop rocker, complete with a nifty gatefold sleeve. A new favorite for me, Joe Normal excels at writing classic-sounding rock 'n' roll, songs that cut to the point with an excess of melody, aka true "singles." His latest is another double-sided winner and once again stylistically diverse. A-side "We Are the Normal" has an eighties post-punk vibe and earworm melody, with a terrific bridge. Not usually a fan of spoken-word interludes, but here it works. Meanwhile B-side's "U Say" is an acoustic fronted rocker, heavy on adrenaline, plus power chords, and as radio friendly as it gets.
www.joenormalUSA.com
Various Artists: Afterglow: Rare! Live! Unreleased! (Mojo April 2021)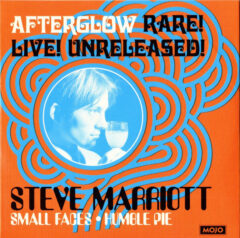 The basics: A 15-track freebie CD with the April 2021 edition of Mojo magazine. Their comps are usually pretty good but they've outdone themselves with this one, creating a must-have item for any fan of Steve Mariott. The album includes rare tracks from the Small Faces, Humble Pie, the Moments, Billy Nichols, and more. The high point is a previously unreleased Small Faces track, "Jenny's Song" (take 1).