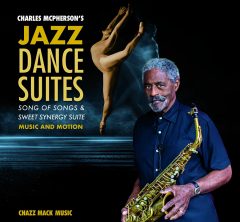 Jazz saxophone master McPherson has been making records under his own name since 1965 and has recorded for at least eight different labels, including Prestige, Xanadu, Discovery, and Capri in the intervening years. Curiously, though, his latest document, is self-released.
A world in which an icon like McPherson does not have jazz labels beating down his door for the privilege of putting out his music is not a healthy one—particularly since this music is so revelatory. Jazz Dance Suites was recorded at the world-famous Van Gelder Studios in Englewood Hills, New Jersey, by Maureen Sickler, and it is a sonically beautiful session that captures McPherson and company in vivid detail.
The album is the result of music created by the leader for a collaboration with the San Diego Ballet, in which his daughter Camille has been featured for eight years. There is less feverish soloing than one might expect, mostly because the compositions are scored with choreography in mind.
The music consists of two extended suites and a portion of a third. It begins with McPherson's latest composition, "Song of Songs," based the Old Testament book Song of Solomon. The leader's contemplative alto simmers over the vamp that introduces the voice of Lorraine Castellanos, intoning first in Hebrew then in English on a Middle Eastern scale. She's got a gorgeous sound that melds well with McPherson's full-bodied tone.
About that tone. Whatever they were doing at the Van Gelder studios was working at every level. On "Heart's Desire" McPherson sets a sumptuous growl into motion and he builds his solo with Zen-like patience that yields to a cathartic climax like only a true master of his art could achieve.
There are two tunes on the disc co-composed with wife, Lynn Sundfor-McPherson, a talented musician (piano) in her own right. Most notable is "Hear My Plea," a prayer-like melody based on a minor mode that elicits no solos but nonetheless packs quite an emotional punch. A personal favorite is "Praise," the sensitive bossa nova duet between Castellanos and the acoustic guitar of Yotam Silberstein. It's short, sweet and honed to a fine point.
The disc continues with "Reflection on an Election," a powerhouse excerpt from an earlier ballet suite called Reflection, Turmoil, and Hope. McPherson channels his angst at the Trump-era apocalypse throughout. The composer spent 12 formative years in the 1960s and '70s in the employ of Charles Mingus, and that influence surfaces beautifully here.
The album concludes with Sweet Energy Suite, adding trumpeter Terrell Stafford and subtracting the guitar of Silberstein in the ensemble of Jeb Patton on piano, Billy Drummond on drums, and David Wong on bass (Patton splits the piano chair with long-time McPherson associate Randy Porter.)  Jazz Dance Suites demands and rewards repeated listening and is highly recommended.