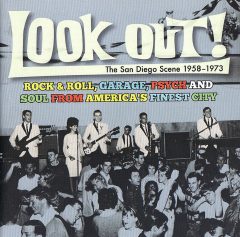 For those who grew up in this town, listening to, dancing to, and playing rock music while coming of age, Look Out! The San Diego Scene 1958-1973 is here. Music is ruled by evolution as much as genetics, and this labor of love, produced and compiled by Andy Rasmussen, follows the form as it morphed from the dance bands of the late '50s to the Farfisa organ and surf guitar-dominated music of the early '60s, along the way picking up the Brit-influenced and nascent soul songs during what might be the Golden Age of San Diego rock, from 1963 to 1966. The package doesn't stop there, it celebrates the garage bands of the time and the psychedelic era as well. The 36-page booklet included is an encyclopedia of local music history by Rasmussen that documents the highlights of dozens of bands, along with their gigs and releases. Though a few groups cracked though with national hits, this collection is steered toward the lesser-known working bands, including small label and unreleased tracks that probably exist few places on Earth besides Rasmussen's otherworldly record collection. Mike Stax contributed write ups of the 30 music tracks, plus there are even memory-jogging AM radio promos interspersed in the great set.
Sonically, this set is given an extra flavor of authenticity by having these songs exist in essentially naked form—they are monoaural, and some have a few surface pops one would hear if they were lucky enough to have the actual vinyl. The mastering and sound restoration by Mike Kamoo works wonders in bringing out the individual instruments and crisp vocals from a period when records were recorded on relatively primitive equipment, then released nearly always as seven-inch 45s. This is during an era when AM radio ruled the airwaves, with stations like KCBQ, KDEO, KGB, and later FM incarnations.
The program of near-chronologically ordered instrumentals and vocals, 75 minutes of nostalgia, include these highlights:
Gene Lamarr and His Blue Flames: "That Crazy Little House on the Hill," 1958. Getting the set off to a rousing start, this rockabilly gem has a grinding rhythm straight out of the Chuck Berry mold, during a time when he was king of the hill. Lamarr was right at home singing with hiccup nods to Buddy Holly, and Johnny Guitar "Watson" was hired for the session to contribute incisive lead breaks.
Ervin "Big Boy" Groves: "Buckets of Blood," 1962. A rewarding piece of early boogie/soul music, with Groves doing sung-spoken lyrics about a notorious hangout across the tracks, where "The cookin' is done by Big Momma's niece/ Catfish and chicken, fried in the same grease/ If you wanna get served, just sit down and wait/ Or you'll look down the barrel of a .38." They don't write them like that anymore.
The Ray-Nears: "Hootchie Part I," 1963. This up-tempo instrumental has nifty horn charts, really hot lead guitar for the time, and is unabashedly built on the framework of the Righteous Brothers' 1963 vocal "My Babe." Two minutes of fun.
The Nomads: "Do the Freeze," 1963. The band is tight as a drum on this dance-craze nugget, with an unidentified singer whose James Brown-mimicing vocal was good enough to lead a tribute band, if they had them back then. The horns and drums are another nod to Brown's Famous Flames.
The Imperialites: "Have Love Will Travel," 1964. Everyone knows "Louie Louie," and this tasty cut adds some trim and new words to it and even includes a lyrical reference the garage-rock hymn itself. Raw and intense.
Larry Green & the Rhythmaires: "Watch Your Step," 1965. A rocker with a distinctive vocal by Green, who could both sing and pull off the wails on this tightly played reworking of a 1961 Bobby Parker song. Like most of the early tracks in the collection, this has an amazingly tight arrangement and a guitar solo that was better than the ones on the radio.
The Misfits: "This Little Piggy," 1964. The British invaded and bands took notice, even when they played songs that were covers of blues standards. This one is "I'm a Hog for You, Baby," with a different title and sounds eerily like the cover of it done at the time by the Kinks. Crowd noise adds to the Brit feel.
Sandi and the Accents: "Tell Me (What's on your Mind), 1964. This band was huge in the early and mid-'60s, playing the top dance spots and releasing a few singles. This song is an original that gives a glimpse of vocalist Sandi Rouse's pipes. This writer thought his younger self was pictured on the dance floor of the cover shot of the Accents playing a '60s dance.
Joel Scott Hill & the Invaders: "Look Out," 1964. This one is a pleasingly sloppy take on the structure of "Money," and John Lennon's howling version of that classic clearly haunts Hill's singing.
The Lyrics: "So What," 1965. Another rocker with its British Invasion heart on its sleeve, it recalls the early albums of the Stones and Yardbirds, with some really hot harp playing, in the vein of Keith Relf.
The Orfuns: "The Animal in Me," 1966. This band included Jerry McCann, later in such influential bands as Framework. It's raw rock, with jangly guitars and just loose enough to get garage band points.
Ervin Rucker: "She's Alright," 1965. You can still download this song on the web, and no wonder. Rucker's soul pipes carry a song that sounds like a hit we don't quite remember, and this song is one of the most striking on the disc. He sounds like Otis Redding and tears it up.
The Survivors: "Midnight Mines," 1966. England swings again, with Rickenbacker-toned guitar leading the way in the early phase of folk-rock. The song is catchy and about working, with a guitar, late at night—only to be accused of cheating by the girlfriend.
The Cascades: "I Bet You Won't Stay," 1965. A few years after scoring a million-seller "The Rhythm of the Rain," this was one of the follow-ups, written by Brit genius Ray Davies of the Kinks, with jangling guitars and a heavy production with layers of backing vocals. Hearing this, one wonders why the Cascades didn't rack up another big radio hit with it.
The Outcasts: "Run Away," 1965. Before Gary Puckett made his mark with five national top tens fronting the Union Gap, his distinctive tenor was heard on this rocker, with Farfisa keys and fuzz tone pounding out a churning beat beneath.
The Mod: "My Last," 1966. This song has it all—a noisy delight that draws from the Stones, the Who, and the Kinks, and all basically reworking the great garage-band/early punk anthem "Seven and Seven Is." The hardest rocking tune on the album.
The Contrasts: "She Didn't Care," 1967. By this time, Hendrix and Clapton were the role models and all the guitarists were playing through fuzz tones, and this song careens along, played by a Battle of the Bands winner whose guitarist obviously dug the Jeff Beck-led Yardbirds.
Five Pound Grin: "Not This Time," 1968. Cream were big, and this band has a singer with vocal depth like Jack Bruce and a guitarist playing smooth early Clapton licks. This track is a twofer, as it plays out to a musical deodorant commercial played by, yes, Iron Butterfly. If you paid no attention to the words, it sounds like an outtake from their early Heavy album.
The Brain Police: "Find Me a Moment," 1968. The band was, with Glory and one or two others, one of the great bands in this town to never put out an album. This song is a pop gem that is more musically complex than most of the stuff on this project, but don't hold that against them. There is an echo of the Beatles' Sergeant Pepper's album here with the tight arrangement and perfect harmonies—no wonder the next track is a live outro that finds the guys cranking out the title outro from that very album, with lyrics about them instead of the Fab Four.
Mixed Grill: "Don't Throw It Away," 1968. At the time this was recorded, in my opinion anyway, three of the top electric guitarists in town were Dave Randle of the Brain Police, Jerry Raney of Glory, and Roger Nemour of Gnarly Beast. When the Beast cut a couple of songs, they renamed themselves Mixed Grill, but with the same hot guitar-based foundation laid down by Nemour.
Anita May & Interstate 5: "When It's Dark," 1968. It's a throwback to the female-led vocal ballads that dominated the early '60s, with May and her capable pipes backed by a slick band with good horns. It stands out in the program, as most of the bands of the day recorded with male leads at the mic. A great tune, and wonderful to hear decades after its release.
Jamul: "Long Tall Sally," 1970. This band had a hit record album, and this is an album track that showcases the soulful growl and frenetic harp playing of Steve Williams. One of the landmark SD psychedelic bands, Jamul's debut self-titled album is a must-have for any that seek it out.
Glory: "High School Letter," 1973. This was sung and written by guitarist Raney and puts the spotlight on this seminal guitar-rock band that built a huge local following for a decade. This writer vividly remembers the day that the band went to LA to lay down this track and its B-side, "Peaches." It is a glimpse of guitar-driven power by a band that foreshadowed Raney's later success with Cowpunk heroes the Beat Farmers, whose tune "Memphis to Nixon" revisits the same melody and tabs.
Though the most recent tracks are 47 years old (but full of hooks), for those of us who played in cover bands and went to local dances with early girlfriends and boyfriends, Look Out is a walk down memory lane and a nostalgic tribute to our own younger lives. Andy Rasmussen captures a time when music and life were simpler, and in so many ways better.