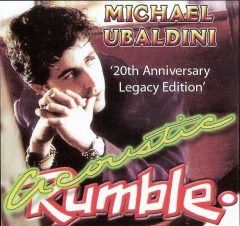 Michael Ubaldini has been playing original songs and recording in a number of genres. He has earned the tag "rock 'n' roll poet" over the course of a couple of decades, has never shied away from strident criticism of the problems of society, and has earned comparisons to Bruce Springsteen's unplugged side, Bob Dylan, and other similar artists specializing in social commentary. Maybe the best analogy would be Dylan's born-again phase, since his detailed and often angry lyrics are full of spiritual and Biblical references.
Acoustic Rumble-20th Anniversary Edition is a re-release of a 1999 album that might have been recorded yesterday, since the problems don't really change much. He recorded all of the 13 tracks with just himself on vocals, guitar, and harp (with backup help on one track), and the sound is stripped down by design. Ubaldini jumps on the soapbox right away, singing in an unaffected, near talking-blues style vocal style at times best described as an outcry. And it fits the message well.
He digs right in with "The Seventh Trumpet," a seven-minute check list of the spiritual and material problems of the world, chief among them needless drive-by gun slaughter, HIV, betrayal, and crooked politicians. "If Christ came today, what would he say?/ I think He'd throw his hands up and say, 'Hey, man see you some other day/ Maybe next time.'" Biblical metaphors are interlaced throughout and the protest themes continue to ring true. "Badge of Freedom" is addressed to the president (it was Clinton when recorded), decrying corruption, drugs, greed and frustration—sound familiar? As before, Ubaldini pours forth his soul with no efforts to pretty up the sound.
A song with more dynamics, "Dark Days of Confusion," is a slower, ¾-time ballad about a female lover. He chronicles a past relationship, with overdubbed acoustic guitar decoration—and like the other tunes here, in places, Ubaldini is pushing the limits of his vocal range. On "Double Standards," it is back to the soapbox: "Equal rights is what it's at/ I would never argue that/ But why do the kings jump us like checkers in the game?"
The titles tell much of the story: "Poem to My Country," "Gunslinger Blues," "World Comes Crashin' Down," "Armageddon Blues." "Gunslinger" is an interesting boogie exercise, furiously up tempo with some tasty acoustic guitar fills, as Ubaldini sings a story about a wild west scenario. It is a highlight and a break from the social moralizing. "World" is a rolling blues, clicking well as he tells his lover he wants to: "Get you alone in the back seat of a junkyard car." His use of blues and country forms as well as folk scores another point of comparison with Dylan, though his lyrics are more direct. Another example, "Ramblin' Rollin' Kinda Man," is more of the same, an introspective rocker that simmers with overdubbed electric slide guitar licks about an encounter with a road femme fatale. Michael Ubaldini's reissued Acoustic Rumble illustrates that for protest singers, the times may change, but the subject matter doesn't.