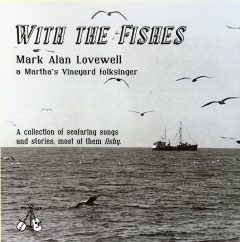 Now for the "something completely different" department, folk songs from the opposite corner of America by Mark Alan Lovewell, who bills himself as a Martha's Vineyard folksinger. San Diego certainly qualifies as a seafaring town, even one with a history of being a fishing center, so while Lovewell's CD, With the Fishes, may concern itself with another ocean, but the songs about fishermen, sea shanties, whaling, and stories of the hard life of those trying to make a living on the unforgiving ocean have a universal appeal.
Lovewell is an established presence in this genre, with four CD releases, and he appears on both coasts for live performances. This project is 18 tracks, many traditional, and of the six written by Lovewell, four are spoken-word tales and poems. The overall theme is consistent, a love story about a fading chapter of American life as old-school fishing by New England trawlers has been supplanted both by more modern equipment and a dwindling number of fish.
This collection is played by Lovewell (vocal, guitar, banjo, harmonica, English concertina), Jim Parr (backup vocals, bass, olive-oil can guitar, percussion), and Tauris Biskis (bodhran). There is a pleasant, homemade vibe to the recording that fits the material just right. Lovewell has a comfortable vocal presence, the product of years playing this kind of music; there is reverence in many of the tracks for a disappearing way of life.
The set kicks off with three odes to fishing, Lovewell's "Fishing Boat Sarah," "Shoals of Herring," and "Jack's Catboat," followed by "Final Trawl," which has a shanty feel, a sort of a fisherman's singing creed. Lovewell tells about ocean storms and the dangers to old-time fishermen in "Bad Weather, a Story" and follows up with a poem about a boat lost in a storm in "Roann, a Poem.'" "It took a prayer from all of us, and then the wind did die, the waves kept tossing us up and down, God bless we were all alive." In the same vein, "Three Score and Ten" laments the loss at sea of many "boys and men" to the storm—the type of song one would expect to hear sung by a throng in a seaside tavern.
Traditional whaling songs in 3/4 time, "Edgartown Whaling Song" and "Song of the Fishes" are spirited and a throw back to times past when whaling was a chief industry in the Northeast. "A Whaler's Tale" describes the scenario of whalers having their boats destroyed by their prey, "I swear to God them fish can think as well as you or me."
The last few tracks lament the collapse of the fishing industry, "Fish and Fishermen are Precious, a Story," and "No More Fish, No Fishermen." Lovewell then does a spoken-word intro to the final song, "Shenandoah," a traditional song about a boat that was a "captain's dream come true." The song is the disc highlight, buried in an overlong program, a shanty with a choral vocal, almost a hymn, and dignified feel.