Texas Songwriter Showcase:Musical Campfire at Alpine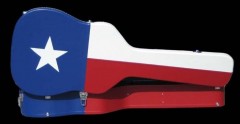 On February 28, fans of the Texas songwriting tradition will have a rare opportunity to see and hear four living legends together on stage at a special songwriters' showcase. The four troubadours, who are also old friends, have long been recognized as exceptional storytellers in their own right through the poignancy of their songs that have touched and inspired countless fans. A once-in-a-lifetime concert experience!
The first songwriter has provided the stamp of authentication on his songs of the working man.
After several decades compiling an impressive discography, the second songwriter's music is currently the focus of attention – no longer is it about his famous hair or his prior marriage to an actress.
The third songwriter waded in different musical categories before becoming a major voice in Americana.
And the fourth songwriter has become a West Texas music legend, continuing the legacy of recording artists Buddy Holly, Roy Orbison, and Waylon Jennings.
The songwriters – Guy Clark, Lyle Lovett, John Hiatt, and Joe Ely – will be bringing over a century of combined musical talent to the Viejas Casino's concert series this month with the Texas Songwriter Show, a summit for the uniquely individual talents of these four participants.
GUY CLARK
Although he is the elder statesman of the four, Guy Clark's repertoire is revered by both veteran performers and musical neophytes. Clark was born in a rural America where family conversation and interaction were essential. In small West Texas towns like Monahans (Clark's birthplace), relationships were golden.
"It's [Monahans] just a little piece of desert," said Clark during an interview with Rusty Miller, host of the This Is Americana radio show. "I was out there not long ago, and it reminded me how bleak it is . . . but there's something about the desert that I've always loved, being born there. It's flat, so flat that you can see the curvature of the earth."
Clark said that both of his parents "were fairly well-read. We were always encouraged in any sort of artistic endeavor. I grew up in kind of a pre-TV era. We didn't have a television set until my senior year in high school. After dinner, we would sit around and read aloud poetry and books. We'd sometimes played games like Scrabble. Any sort of intellectual endeavor was encouraged."
After spending the late '60s in California, pitching songs and performing, Clark and his wife, Susanna (a fine songwriter as well, whose composition "A Quarter Moon in a Ten Cent Town" was recorded by Emmylou Harris) moved in 1971 to a Nashville that was undergoing a musical renaissance. While Clark felt at home with the Music City's movers and shakers of the day (Rodney Crowell, Steve Earle, etc.), his closest relationship was with a fellow Texan singer-songwriter: the late Townes Van Zandt.
Following the 2004 release of the documentary Be Here to Love Me: A Film About Townes Van Zandt, much was written about Van Zandt's bout with manic depression, the ensuing insulin shock therapy, and the long-term memory loss, which came as a result of the radical medical treatment. Clark preferred to remember Van Zandt as more than another tormented artist wrestling with demons.
"Townes and I were best friends for 35 years," said Clark. "We never tried to write together, and we never played gigs together for that whole time. He was just the smartest, brightest, funniest guy I ever met in my life. For all his 'dark' reputation, I don't think I've ever met anyone smarter – or funnier."
This year the Academy of Recording Arts and Sciences has honored Clark by nominating his latest album, Workbench Songs, in the best contemporary folk/ Americana category. The album's title refers to Clark's talents as a major artisan. During the time he spent in California, Clark made dobros for the Dopyera brothers' National Dobro Company. He now makes Flamenco guitars in his own workshop. Workbench Songs includes many tracks worthy of its Grammy nomination, including "Tornado Time in Texas," "Cinco de Mayo in Memphis," and "Magdalene."
LYLE LOVETT
After several successful forays into big band swing (Lyle Lovett and his Large Band, 1987), gospel (Joshua Judges Ruth, 1989), or Baja California day tripping (Road to Ensenada, 1996), it will be interesting to see what Lovett brings to the musical campfire and storytelling imagery of the Alpine concert. A graduate of Texas A&M University with degrees in German and journalism, Lovett has taken an academic approach to his songwriting craft through astute observations on the human condition. The Klein, Texas, native has also been influenced by Van Zandt's body of work.
"Townes Van Zandt, I think, is regarded by any singer-songwriter from Texas in the highest way," said Lovett during a 1998 interview with Jody Denburg of the Austin Chronicle. "It's hard to think of Townes Van Zandt and not mention Guy Clark as well. Guy and Townes were longtime friends and, I think, influences on one another. So I always think of Guy and Townes together, really. But as you know, we lost Townes [in 1997]. And gosh, the first album of Townes I ever bought was The Late Great Townes Van Zandt. I heard Don Sanders in Houston play "Pancho and Lefty." That was the first I ever heard of Townes. He introduced the song and said who had written it, and I went out and found The Late Great Townes Van Zandt. It was one of those albums I tried to learn every song on."
If the relationship between Clark and Van Zandt was special, so was Lovett's collaboration with film director Robert Altman, who passed away last November. Not every singer's transition into acting has been smooth (just ask Tony Bennett or Mariah Carey) but in Altman Lovett found a perfect mentor for his offbeat comical delivery. The Altman films (The Player, 1992; Short Cuts, 1993; Ready to Wear, 1995; and Cookie's Fortune, 1999) established Lovett as a sought-after character actor.
Lovett's most recent album of new material was My Baby Don't Tolerate in 2003. In the same year he also recorded Smile, an album celebrating popular songs in contemporary cinema.
JOHN HIATT
There are three phases in Hiatt's lengthy recording career. After arriving in Nashville in the early '70s, Hiatt was firmly entrenched in the singer-songwriter regiment, which became synonymous with the decade. For every James Taylor, Jackson Browne, Jim Croce, and Cat Stevens that received plaudits, there were dozens more aspiring singer-songwriters waiting for their curtain calls. Hiatt was one of them.
Hiatt's first two albums were released on Epic Records. Hangin' Around the Observatory (1974) and Overcoats (1975) failed to connect with the public or the influential music critics of the time. By the end of the '70s, Hiatt had moved to a different town (Los Angeles) and another record label (MCA). He was no longer wearing the singer-songwriter ID but was aggressively being promoted as an American counterpart to the British New Wave's angry young men, Elvis Costello and Graham Parker. The scowling photographs of Hiatt on the album covers of Slug Line (1979) and Two Bit Monsters (1980) seemed contrary to the ebullient life-of-the-party persona he demonstrated in his live shows.
By the time All of a Sudden (1982) was released, Hiatt had moved on to another record label (Geffen), but he was still perceived as a "modern world" artist. All of a Sudden was memorable for producer Tony Visconti's (T-Rex, David Bowie) involvement and great Hiatt tracks, including "Walking Dead" and "I Look for Love." Riding with the King (1983) included production by Nick Lowe, with a scorching title track that later became part of a collaborative recording project for Eric Clapton and B.B. King.
After the disappointing Warming Up to the Ice Age (1985), Hiatt astonished the industry and the general public with Bring the Family (1987), his first album for A&M Records and one of the great American albums of the '80s. Assisted by Lowe, session guitarist Ry Cooder, and drummer Jim Keltner, Hiatt organized the sessions in a manner similar to Frank Sinatra's recording philosophy: record "live" in the studio and knock the album out in a couple of days.
The third phase of Hiatt's recording career – roots Americana – began with Bring the Family. "Memphis in the Meantime," "Have a Little Faith in Me," and "Thing Called Love" (a big cover hit for Bonnie Raitt) continue to be concert favorites to this day. With Bring the Family, Hiatt finally found his musical niche. Twenty years and several albums later, he remains a vital songwriting force.
JOE ELY
Of the four songwriters, it is Joe Ely who probably possesses the most eclectic musical background. From opening for the Clash to jamming with saxophonist Bobby Keys and singing duets with former San Diegan Rosie Flores, Ely doesn't believe in musical barriers, he simply plows through them.
The Amarillo, Texas, native first recorded tapes as part of the Flatlanders, an adventurous band that featured Butch Hancock and Jimmie Dale Gilmore. The 1972 recordings initially didn't register much of a buzz, but Ely, Hancock, and Gilmore went on to develop individual cult followings in the alternative country scene.
It's been a roller coaster career for Ely, bouncing between the major labels and smaller independents, such as Hightone Records. The concert circuit has remained his bread and butter, and riveting live performances captured in Live Shots (1980), Live at Liberty Lunch (1990), and Live at Antone's (2000) probably serve as a better introduction to Ely than his studio releases.
This year looks like a productive one for the indefatigable Ely. This month sees the release of a new CD, Happy Songs from Rattlesnake Gulch. Also this year, the University of Texas will publish a collection of Ely's writings.
The Texas Songwriter Show with Guy Clark, Lyle Lovett, John Hiatt, and Joe Ely takes place on Wednesday, February 28, 8 p.m, at Viejas Casino, Alpine. For details, go to www.viejascasino.com