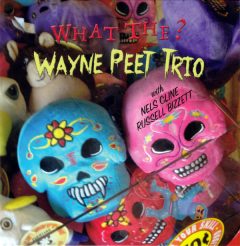 Organ-specialist Wayne Peet has become a giant in the Los Angeles free-improvising community since the 1980s, when he moved there from Oregon to play with trombonist John Rapson. He's played with almost everyone from that scene on the West Coast, and, additionally, he's an in-demand recording engineer for labels like Blue Note, Enja, 9 Winds, and Jeff Kaiser's pfMENTUM for which this was recorded.
I'll say it right up front: this is the best, most-balanced organ-trio record I've heard in years. It's been in constant rotation on my iPod ever since it arrived in the mail earlier this year.
Alt-rock fans will certainly recognize one name in the line-up, that being Nels Cline, who has been the lead guitarist for the band Wilco for the last 15 years. San Diego jazz fans will recognize the other name on the roster, that being drummer Russell Bizzett, who is a huge contributor to the success of What The?
Even though Peet is the putative leader, he doesn't hog the limelight by any means. He wrote most of the tunes (aside from four group improvisations and one Nels Cline original) but he mostly steers in support of the monstrously creative Cline, who turns in a typically stirring performance.
The album begins with "Capable Faith," which reminded me of the opening strains of Cream's "White Room," courtesy of Bizzett's thunderous drum rolls. This episodic piece boasts more moods than Sybil off her meds.
Cline's wah wah guitar ostinato and Peet's swelling organ help Bizzett crank up the groove on "Devout Vulgarity" tighter than Donald Trump's wallet at a charity event. Even when things threaten to go way "outside," the drummer keeps them tethered to a precise reality, and the sense of tension those forces create in opposition is one of the reasons this session continues to reverberate positively for me.
Again, there is a remarkable sense of balance throughout the date, which was recorded "live" in the studio over a two-day period. Cline's original, "Chase to the Cut," features the guitar and organ/clavinet syncing effortlessly with Bizzett's taut drumming so seamlessly that it's impossible to focus on any one musician.
I couldn't help but think of the Allman Brothers or maybe instrumental Santana on the sort of free rock ballad "Hushbubba," where Cline's intense devotion to the tone of his guitar ratchets up the joy factor unbearably.
Intense stuff, definitely placing high on my "best of 2019" list.