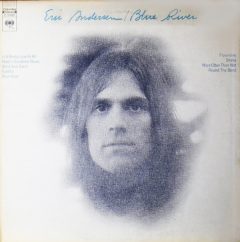 Eric Andersen's seminal 1972 breakthrough, Blue River, is an exquisitely produced album highlighting the songwriter at his best—at a time when the music industry was looking for a new Dylan. This re-mastered version of Blue River is breathtaking throughout, providing all of the sonic clarity and depth to cause this to feel like a first listen.
After emerging from the Greenwich Village folk music scene of the '50s as one of Bob Dylan's peers and following a season with the Band in Woodstock, New York, Andersen was at ease and willing to follow his new artistic and spiritual instincts on Blue River. The payoff is a singer-songwriter's masterwork. Every element is in place from instrumentation to song craft. Unfortunately, Blue River is not as well-known today as it deserves to be. This retro-review is a reminder and perhaps, for some, a first exposure to this classic album.
Blue River belongs in the company of the best singer-songwriter albums of the decade, including Dylan's Blood on the Tracks, Joni Mitchell's Blue, Van Morrison's Moondance, and the early work of Leonard Cohen. Like these artists at their best, Blue River carries a transcendent quality that reveals it as a cohesive work, not simply a collection of songs. These are vision-pieces of life captured through melodies and lyrics that allow us to peer into the open heart of the poet. The music is delicately and intricately supported by legendary Nashville session bass man and new producer, Norbert Putnam. The instruments include acoustic dobro, slide guitar, and mandolin, which weave gently into each song arrangement. On a few key songs there is simply a piano, accordion, and percussion.
The achingly relatable vulnerability of this collection is a quality Andersen cultivated with songs like "Thirsty Boots" and "Come to My Window." Songs like "Round the Bend" and "Sheila" bring insight and new depth familiar themes of loneliness and temptation. The pacing on the album moves between up tempo and slower, lyrically driven songs. The opening, "Is It Really Love at All," is an anti-love song disguised in a pleasant melody as the singer calls doubt to the reality of romantic love. Andersen's first wife, the late Debbie Green provides lovely vocal support on this song. "Pearl's Goodtime Blues" captures something of the rockling essence of Janis Joplin all dressed in feathers as she "steals the show" and "sings the blues right off your mind." "Wind & Sand" is a haunting portrait of the temporal cycles of life tangled in the seasons of the earth. The chorus refrains: "rain and wood and fire and stone/magic across the land. Seasons come and seasons go right through your hand like wind and sand." The verses return us to the cycle of birth, life, love, and death. What is timeless in this song is the utter lack of a moral lesson or sermonizing, which so many of his peers were prone to do. Andersen shows us his story like a Zen koan rather than telling us what to believe.
The same holds true of the title song, "Blue River." We see cinematic portrayals of life through Andersen's lyrics. Like "Wind & Sand," the scenes take place nature, this time a river. But by contrast, the song is a prayer for protection and faithfulness to the ordinary rhythms of our lives symbolized in the movement of the blue river. And it's the presence of the voice of Joni Mitchell as she echoes the chorus that creates a haunting sense of timelessness.
Eric Andersen's subsequent work over the last five decades reveals his adventurous nature as he collaborates with Townes Van Zandt, William Burroughs, Camus and, posthumously, even Lord Byron. Looking back at Blue River today we see a breakthrough into a stream of songs that gets beneath the surface of Andersen's early days into something as timeless as a river allowing his listeners to experience the natural healing magic of music.