TOMCAT COURTNEY: Foot Stoompin'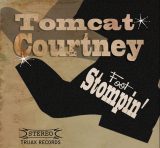 The 83-year-old Tomcat Courtney shows no sign of slowing down with this follow-up release to his 2008 national recording debut, Downsville Blues (Blue Witch Records), which was a finalist in the Independent Music Awards for Best Blues Album. If anything, Courtney is gaining momentum, having toured extensively (domestically and in Europe) in support of Downsville Blues, including an appearance at the prestigious 2010 Montreux Blues Festival. He also won the Best Blues Music Award at the 20th annual San Diego Music Awards ceremony in 2010, and was recently inducted into the California Blues Hall of Fame. Foot Stompin' (Truax Records) features Courtney's spare style of Delta-influenced Texas blues (in the tradition of Lightnin' Hopkins and Mance Lipscomb), with just Courtney (guitar, vocals, harmonica, and footboard), Tony Tomlinson on a second guitar and (minimal) percussion, and Troy Sandow playing harmonica on selected tracks.
The 12 tracks on Foot Stompin' (eight of which were written by Courtney) showcase his soulful — almost primal — vocals and down-home, unadorned guitar style. This is old school roadhouse blues from beginning to end, much like the music Courtney grew up listening to in his native Texas. "Evil Hearted Woman," "Big Butt Sally," "Nightcap Mama," "Recession Blues," "Another Man Answered My Baby's Door," "Crack House," "Hoodoo Woman," and "Trolley Blues" are gritty originals, and the covers are "Chains of Love," "Oh Baby," "St. Louis Blues" (by W.C. Handy), and "Rock Me." Sandow's harmonica shines on the three tracks in which he appears: "Big Butt Sally," "Recession Blues," and "Rock Me."
Courtney's great strength as a bluesman is his authenticity. He grew up poor, picking cotton from age eight or nine. His world consisted of the cotton fields, the local store, and the railroad tracks that ran through the rural towns where he lived, such as Marlon and Downsville. He taught himself to tap dance as a child, after seeing Mr. Bojangles (Bill Robinson) perform on the farm where he and his family were picking cotton. At 16, he was hired to dance and sing in the Ringling Brother Circus minstrel show and later in other traveling variety shows. The dollar and half a day he earned was a big improvement over picking cotton. He moved to Lubbock, Texas after World War II and became a cook, meanwhile learning to play the guitar.
For years, Courtney played roadhouses throughout the Southwest. He moved to Los Angeles in the early 1960s and migrated to San Diego in 1971, where he formed the Bluesdusters and has been playing regularly in local clubs. Even though he had been playing the blues for over 50 years, he did not release a national recording until he was 79. In other words, Courtney is the real deal — a lifelong bluesman who has lived his lyrics. Foot Stompin' resonates old fashioned blues.