EUHPORIA BRASS BAND: Coast to Coast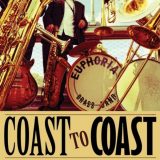 The Euphoria Brass Band has just hit the streets with their first CD, Coast to Coast. Bold and boisterous, with an emphasis on a funky bass line provided by a funky sousaphone, the CD is an audio essential to get that next party going and a great musical prescription for chasing the blues away. Coast to Coast is a real keeper.
Usually in a stance of humble flamboyance and carrying an air of faux officiousness — they were most often clad in military inspired uniforms — brass bands have loosely marched down the avenues and boulevards of New Orleans for over a hundred years. Like Dixieland, which is said by some to have developed from the New Orleans brass bands, their music is a beguiling admixture of American blues and European marches, with showiness and panache as well as lazy exuberance.
Interest in New Orleans-style brass bands waned during the middle years of the twentieth century. Then came the seventies, when the Dirty Dozen Brass band incorporated funk and elements of be bop into the New Orleans brass band sound. They even brought in an electric guitar (gasp!). Other brass bands have followed in the footsteps of the Dirty Dozen, and over the last 30 some years other contemporary influences, such as hip-hop, have made their way into the brass band sound.
The Euphoria Brass Band keeps this Dirty Dozen nontraditional tradition going on Coast to Coast. There are a couple of old-style brass band tunes with conventional arrangements, "Whoopin' Blues" and "Just a Closer Walk With Thee," which closes the disk. "Closer Walk" even begins with a funeral dirge, what is believed to be the genesis of the New Orleans brass band tradition. The rest of the tunes are smoking contemporary numbers, up-tempo and funky. Wayne "Tuba Wayne" Rice sets up these numbers with solid and tight bass lines from his sousaphone. Jean-Paul "JP" Balmat often doubles the bass line or plays a bass counterpoint on baritone saxophone.
Of the dozen tunes on Coast to Coast, five are compositions by Euphoria Brass Band members: Balmat, Rice, and guitarist and banjoist David Bandrowski. A couple compositions, "Blackbird Special" and "Who Took the Happiness Out" are borrowed from the Dirty Dozen Brass Band. "Who Took the Happiness Out" is certainly the most harmonically adventurous number, sounding as if Kenny Garrett and John Scofield may have sat in on the session.
"Buck it Like a Horse" includes a sassy hip-hop vocal (by trombonist April West?), and an international element is brought to Coast to Coast with "The Homecoming Song" by the South African composer Abdullah Ibrahim.
The music on Coast to Coast is certainly not dinner music, and it's not sit-down-and-listen music. I want to turn the volume way up on the stereo when I listen to it. And it makes me want to dance, dance, dance.