MARK ABEL: The Dream Gallery, Seven California Portraits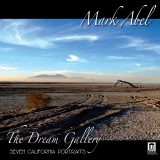 Mark Abel is a Carlsbad composer who describes his approach to The Dream Gallery: Seven California Portraits as "postmodernist art song." It's dense, avant garde material that requires the listener's full attention for 70 minutes. He's mixing classical orchestrations, progressive rock chops, classically trained singers, and plenty of musical theatre exposition-song touches, all delivering smartly written, irony-laced essays about social issues.
Abel wrote the music and stories, enlisting a group of LA area classical studio musicians conducted by Sharon Lavery. The seven "portraits" are each sung by classical and opera veterans, many with local connections (Mary Jaeb, David Marshman, Janelle DeStefano, Delaney Gibson, Carver Cossey, Martha Jane Weaver, and Tom Zohar). The slick package includes a superb booklet includes bios, lyrics, and project background; listeners would be lost without it.
The pieces are named after the first-person character singing, who each represent a Calfornia city or county. The first one is Helen, from LA, and to some very interesting and dynamic orchestral backing, she relates her transformation from naive young girl through phases as blissed newlywed, betrayed wife, to embittered divorcée. This is the most effective of Abels set pieces here; Jaeb has a knockout voice and gaps in the narrative allow the orchestration to make its own statement with a quiet flute passage, a cello-fueled buildup, and mood changes that match up well with the story. Throughout the project, listeners are likely to connect with this music only to the extent that they are captivated by the character and his or her story. Which is the strength, and weakness, of Abel's idea here, since some of these stories just dont work as well as others.
Todd, from Kern County, delivers a 10-minute tale about an oil roughneck in the desolate San Joaquin Valley. This follows Helen's LA lifestory and tries for a similar impact, including environmental admonitions, but falls short. Marshman's operatic baritone delivery is incongruous with the character or the Merle Haggard/ Springsteen/working-man lyrics. Better is Lonnie's story about Richmond. You guessed it, he's black and it is about the disillusionment of migration from rural South to Bay Area shipping yards: "we got the Depression all over again." Lonnie is the old-timer who stayed the course through the riots and corruption, married for 50 years and raised two good kids. Abel's musical fabric fades into just a canvas for a compelling story that mirrors the inner city experience, as Cossey becomes Lonnie. Weaver cant quite pull this off as Luz, tying to paint the plight of the Latino from migrant work to ghetto prejudice. The points are valid, but the message doesnt click in a mini-opera sung to music that lacks any ethnic flavor. San Diego is represented by a humorous, cynical song about social climbing and mindless materialism.
Mark Abel isnt far off in calling The Dream Gallery postmodernist art songs. They are closest to performance art, in 10-minute snippets. Some grab attention, some don't, but it is clever and different.