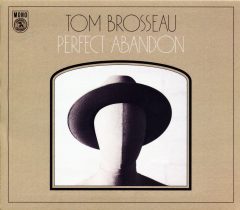 Originally from the cold steppes of North Dakota, Tom Brousseau's local connections include work with Gregory Page; since 2002 he has toured seemingly everywhere on both sides of the Atlantic and released eight studio albums, many on both vinyl and CD. Many of his songs have been stripped-down folk/pop, personal tunes that often relate his experiences. Last year he released Grass Punks; his newest is Perfect Abandon, a ten-song set recorded earlier this year in England.
Brousseau tries and succeeds in making minimalist music. The album was recorded in an afternoon on a stage, many of the tracks featuring just Brousseau's hot-mixed vocals and his acoustic or electric guitar, recorded with a low-tech vibe. Also on various tracks are Ben Reynolds on electric guitar, Joe Carvell on double bass, David Butler on a two-piece drum kit, and John Parish on organ, but the playing here is kept to bare bones with one take and no audible overdubs — resulting in a rough mix that at times sounds unfinished and thin, but also a spontaneity rarely heard and an undeniable connection with the artist.
The opener is "Hard Luck Boy," a talking folk tune with Brousseau weaving a tale of childhood, including memories of being deserted at a thrift store by his mother and a dose of poignancy. "Roll Along With Me" has thoughts about a love relationship, using metaphors to examine this mystery. The tune has a groove and some guitar fills by Reynolds but is held back a bit by the minimalist arrangement. Brousseau has a distinctive falsetto voice that carries "Tell Me Lord," as he asks "Where in the world are the stars?/ Where in the world is the moon?" This tune, with just Brousseau and finger-picked electric guitar, feels completely realized.
The disc highlight is "Take Fountain," which has a very good hook that Brousseau sings over the top of, with a two guitars and bass laying down a haunting interplay. His lyrics, about fountains in various cities as the premise for evaluating his past relationships and accomplishments, are captivating. "Empire Builder" is a short instrumental that flashes some nice acoustic guitar chops from Brousseau and makes way for "Goodbye Empire Builder," with a blues feel (acoustic guitar, harp) as he relates some memories about a romantic breakup.
Recollections of North Dakota populate "Island in the Prairie Sea" as Brousseau and an acoustic guitar provide an intimate folk portrait of his early performing years. "Is it true you used to come and watch me sing?/ Is it true I once gave you a diamond ring?" Brousseau scores another highlight with "My Sweetest Friend," a tune with a memorable guitar riff, fleshed out with drum and bass. It is another personal memoir, but one packaged as an infectiously catchy pop song, a lot like "Take Fountain." These two, given the overall stripped-down approach, click amazingly well.
Tom Brousseau offers roots music listeners a batch of fresh, interesting, and introspective folk and pop music on Perfect Abandon.
www.tombrosseau.com