THE JACKSTONES: What Brings You Here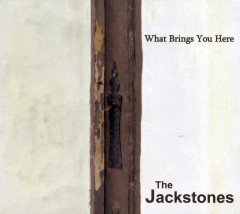 When a band bills itself as New Arena Country Rock, like the Jackstones do, it's clear they are trying to cover all the bases. They've been around for over a decade and boast members that are baby boomers and veteran players: Andy Machin (vocals, lead guitar), Rick Lorenzini (vocals, keyboards, guitar), Bjorn DeBoer (bass), and George Nelms (drums). Machin's a producer at Big Rock Studios in Escondido and is on the sleeves of some very well-regarded local albums; Lorenzini has released solo music and is a founding Jackstone who shares the writing and singing spotlight on the band's new disc, What Brings You Here.
Since well before the century's turn, younger-generation country crossover artists started glossing and rocking up their sound, dumping much of the country vibe and instruments, so the new country the Jackstones shoot for is more straight ahead rock, with themes in a few tunes that have a country feel. No problem: their guitar/key classic/arena rock draws from bands like Tom Petty and the Heartbreakers and the Wallflowers and it is infectious. Opening the 13-track platter of originals with nifty rocker "Breaking Me Down," the strengths are there: tight, layered guitars grinding, good vocal interplay with Machin in the lead slot, and plenty of harmony help from Lorenzini. The guys add some lyrical fun to make the tune jump even higher, "She's a girl who demands respect/ I believe it 'cause it's tattooed on her neck."
"What's Wrong With Girls" works a strong power-chord hook to motor through a quirky litany about the mysteries of trying to figure out how women think. Next up is a highlight: "She Dyed It Red," a catchy, radio-ready rocker with some country blood about a woman hitting her stride in her middle years; she walks on her hubby and dyes her wedding gown, since "It's still a damn good dress, so she dyed it red." The guys are back to punching the beat on "Waiting In a Line," which is another superbly arranged rocker.
This album has no slow tunes, no romance ballads, few softer moments in its nearly 53 minutes, but — strangely — these aren't really missed. While a rocker or two might get lost in the shuffle, the program holds up pretty well; it rocks and doesn't get old.
"Range of Motion" is the disc's best track, with the most unusual riff and interesting licks on the CD. It's a series of marvelously catchy guitar and vocal hooks that weave around each other in surprising ways, a bit out of the standard, by-the-numbers rocker toolbox and all the better for it. "Let's Pull Over" sounds so much like an outtake from a Jackson Browne album it is uncanny, while 11 tracks into the program is another buried jewel: "Where You Were Made." This one percolates with floating key and guitar figures on each side and nice, full harmonies as Lorenzini sings farewell to a lover, looking backward after a lifetime together.
The Jackstones' What Brings You Here is a must-have disc for anyone who wants to hear good, memorable music with a rock beat, regardless of genre.
www.facebook.com/TheJackstones