BERKLEY HART: Fleur de Lis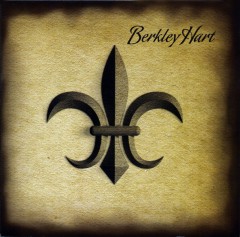 There aren't too many sure things in life, or in music, but Berkley Hart have, with six previous CDs since 2000, established a track record that speaks for itself: Americana music at its best. Their 2011 release Crow still sounds fresh, and they are back with Fleur de Lis, a double-length album with 21 songs (19 originals) continuing in the same country/folk direction as that disc and 2009's Las Vegas.
This one is a treat for fans of the duo and a must-have for any acoustic music lover, as the songwriting by both is intimate and personal, catchy and relaxed. Calman Hart's contributions, as on past discs, have a particularly insightful way of burrowing into family and human narratives, such as marriages; on this album Jeff Berkley is writing songs that often have a similar vibe. The music features a roster of top shelf local musicians (Shawn Rohlf, Dennis Caplinger, Sharon Whyte, Marc Twang, Jason Littlefield) and with Berkley's production, sounds like the band is in the listener's room.
"Austin Girl" opens, a sharp, catchy Berkley tune setting the parameters for what is to follow: rich harmony blends of the two and clean, spare acoustic arrangements as Berkley sings, "She's just like the Texas wind/ Whisper makes me want to sin." It's Hart and minor chords for "Blood on a Rose," a disc highlight that works mystery into the song's fabric. He steps between a splitting couple on "Do The Math," with lyrics that turn the tables on a cheating husband — with great guitar work by Berkley. Berkley's "Cora Lee" is a centerpiece of the first half of the double disc. Vivid, storytelling lyrics spin the tale of a mountain man's lifetime love, "I am of her and she of me," from meet up to her burial. A love message from Hart to his beloved declares "You're Perfect for Me," delivered with beautiful harmonies.
After a brief instrumental intermission, the second half is off to a great start with the title track, with Berkley singing about departing New Orleans, asking for "One more southern breeze." A strong arrangement helps this one click, with Caplinger's fiddle and Hart's harp prominent. Hart scores with a couple of tunes about death: "If I Die in a Nuclear War," which features a good-natured look at the exit possibilities, and argues to a quirky banjo beat that it's best not to worry about it; and "Another Angel," a quiet, poignant folk song about the passing of a loved one after all has been done, "If it's just another soul you need/ Can't you just take mine?"
Both performers (with Eve Selis and Mark Twang) joined in to write "Let's Go Out Drinkin'," a country shuffle about a couple that recalls how they used to party "Before we had our babies." The disc wraps with a note-perfect cover of David Crosby's "Guinnevere" that provides a pleasing dessert to the menu of superb roots music before it — and will make the listener grab their old CSN albums for a new spin.
Fleur De Lis is great music, not to be missed.
Fleur de Lis CD release will be held at Java Joe's, Friday and Saturday, April 3 and 4, 3536 Adams Ave., 8pm.