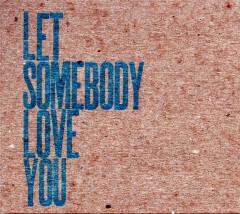 Woodbury, Vermont is home to about 900 New Englanders and in the 19th century it was known for the fine granite from its nearby quarry. It seems like the kind of clean, green, and unhurried place that would engender calm and quiet folk songs, and Woodbury natives Willa Mamet and Paul Miller seem to get that. Their new release Let Somebody Love You, infuses a dozen covers of folk and country standards with soft and spontaneous readings that have a Woodbury feel.
Recorded in Vermont by Bob Amos, the disc is minimalism at its best: Mamet does most of the lead singing, with Miller providing harmonies, with his single-tracked acoustic guitar the only accompaniment. Her vocal delivery is clear and striking — the lack of instrumental clutter makes it stand out. The songs are mostly familiar, by writers like Gillian Welch and Don Schlitz, and their relative success will depend to an extent on which are the listener's favorites.
Joni Mitchell's "River" clicks with the stark arrangement of Miller's guitar mimicking her original's piano, and Mamet's vocal nailing the melody. "Change the World" also works very well, with a good pop-jazz feel from the guitar and some spirited singing; the duo get an awful lot from a live-in-the-studio recording of one vocal and one instrument on this highlight. Next is another good one; "Wichita" takes a much different approach on Welch's country favorite. Miller's guitar, impressive throughout, takes a trip to the back country for this one as the two sing smooth harmonies on the choruses. Staying in this mode, they manage to perform a nice cover of "Desperado" that doesn't suffer by comparison to all of the legions of previous versions by artists like Linda Ronstadt, Judy Collins, and Carrie Underwood thanks to Mamet's strong vocal.
Not everything works on the disc, though. George Strait's "The King of Broken Hearts" is sung solo by Miller, and while he gives it a good effort, the track makes the listener miss Mamet. The cover of Paul Simon's "American Song" is also not bad, as Mamet sings it well and get the idea across, but the song just isn't doesn't have the oomph it needs without the strings that swoop in on the original when the bridge goes, "And I dreamed I was dying."
The two score well with another country track on "Forever and Ever, Amen," Schlitz' tune sung by Randy Travis, and here given a sweet toe-tapping guitar arrangement with crisp harmonies, and then closed out with the familiar gospel holler "Amen, amen, amen, amen, amen." And they might have saved one of the best for last as the disc wraps with Richard Thompson's "Dimming of the Day." Beautiful harmonies help on this highlight, and Mamet really lets go as her soaring voice takes the song to another place. It is a great way to end a program from a pair whose strength seems to be making music that is both simple and intimate.
Willa and Paul will be performing twice at Adams Avenue Unplugged this month (during a rare California tour) on Sunday, April 25, first at 1pm in the Normal Heights United Methodist Church and again at 3pm at the Kensington Cafe. www.facebook.com/willamamet.paulmiller