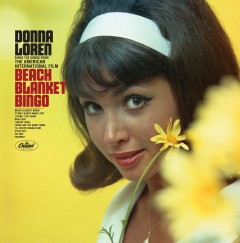 For her ability to reach America from so many angles–recording artist, TV performer (including the seminal 1960s rock variety show, Shindig!), soft drink pitch spokeswoman and movie actress–it's no mystery why Donna Loren is fondly recalled as one of the beaming faces from the era. In the last decade, there has been a energized re-focus on Loren, with new recordings being cut, a critically acclaimed CD anthology on her '60s girl group songs (These Are the Good Times: The Complete Capitol Recordings, released on the Now Sounds label), and the pending arrival of a biography entitled Donna Loren: Mover and Shaker in the Center of a Mid-Sixties Pop Maelstrom. She'll also be one of the main headlining acts at the annual San Diego gathering of Big Kahunas and Honolulu Lulus, Tiki Oasis, held every August in Shelter Island and Mission Valley. This year's theme is "Party on Monster Island."
West Coast pop culture expert Domenic Priore, who is helping Loren in bringing her life story to the printed page, explained the reasons behind the biography's evocative title. "What intrigued me about Donna Loren's career is, although she made really great records, she'd never had a hit… which kind of fit in with the whole "Nuggets" idea, where by the '70s and '80s we started realizing there was a ton of amazing records around from the '60s, as good as what we already knew from that decade, and, shall we say, more worthy of our time than… new stuff that was coming out," Priore told the Troubadour. "Despite the fact there were not hit records by Donna Loren, she seemed to traverse all these cool areas of the '60s, sort of moving through them as this somewhat ubiquitous artist who was a part of this favorite thing, that favorite thing… she'd done a duet with Dick Dale in Muscle Beach Party, she'd been a key player on episodes of Batman and The Monkees, and then when I got to see her photographs, I realized she was on this incredible 1964 Dick Clark Caravan tour that seems to be the height of the whole girl group era. The Supremes were on that tour, but they only had one minor hit when it started. Then "Baby Love" came out and they became headliners in the middle of this tour. But also on that tour were the Shirelles, Martha and the Vandellas, the Dixie Cups, Brenda Holloway… and there's Donna right in the middle of all that, again with this kickass voice and positive energy. Then, of course, she's alongside Jerry Lee Lewis, Jackie Wilson, James Brown, and the Beach Boys on Shindig!, Little Stevie Wonder, the Pyramids and all the bands in the Beach Party movies, and she just seems to fit right in, of course holding her own with the music. She was astride this whole exciting time, and helped along with the general atmosphere of this whole wave of music, which, during that period, seemed to be more integrated than what came later. After I saw the photography her father (animator Morey Zukor) had done, and the wide scope of artists and scenes she was involved in, be it music or television, I realized there was enough here to make a very appealing book… especially since the fashions of the mid-'60s are so desirable."
Loren's Friday night appearance at Tiki Oasis should be special. " Once Donna and her husband, Jered, and I got involved, part and parcel of that was I realized Donna's singing voice had not lost one ounce of its appeal; she could bring to life what was on those records," Priore revealed. "The tough thing is, if you look at it realistically, the girl group sound of the early '60s is not commonly brought to the stage. However, in Los Angeles, there is a group of alternative musicians deeply into vintage pop music as a whole. They've done these benefit concerts organized by Paul Rock, performing under the name the Wild Honey Orchestra. Some of them are members of the Brian Wilson band, for example, and have re-created Pet Sounds and Smile on stage, but Wild Honey has also done benefits utilizing the music of Big Star, the Beatles, the Kinks with what can be called "the scientific approach," that is… not just covering the material, but including all the original instrumentation that was on the records. That's what I felt could be applied to the girl group sound as well, and since Donna and I had become friends, and Tiki Oasis is musically the best "beach party" around today, this would be a perfect place to present the sound of those great Donna Loren records… along with things she only did on Shindig! with that incredible band. Fortunately, being around the Wild Honey players, I became friends with Willie Aron, who had been in the Balancing Act during the 1980s, and he was an arranger who was more than up to the task of re-creating what Donna's producers worked up on those records during the '60s. The players? I would like some of that to be a surprise, but yes, it's going to be a hot little bunch of 'em ready to whip up a storm."
Saturday night's headliners at Tiki Oasis 16 have the adulation of rock fans around the globe for their ground-breaking garage rock sound of the mid-'60s. The Sonics hailed from Tacoma, and took their no-nonsense, blue-collar image to heart. Tacoma was to artsy Seattle what Oakland was to San Francisco. Landmark singles ("The Witch," "Psycho") and LPs (Here Are The Sonics!!!, The Sonics Boom) made their impact before the haze of psychedelia in the latter part of the decade and would change the musical climate. The Sonics disbanded, leaving the work of passionate journalists and record hounds to keep the band's name and reputation out there when it appeared that the Sonics would be another '60s memory. Happily, the Sonics reunited in 2007, and those who fear that the band has lost a step over the passage of time are going to be in for a sonic boom of a surprise when the group appears on stage at Tiki Oasis.
Sunday evening's finale show will be no less raucous. Hailing from the South, the Atlanta-based Woggles bring an intensified southern swagger to their garage rock sound. In the infinite universe of rock, the Woggles are parked somewhere in the band intersection of Southern Culture on the Skids and the Swingin' Medallions. The group consists of the Professor Mighty Manfred (vocals), Buzz Hagstrom (bass), Dan Elecktro (drums), and Flesh Hammer (guitar). In addition to a mostly covers EP, Souled Out!, the Woggles have a full album (The Big Beat) inspired by legendary early rock 'n' roll disc jockey, Alan Freed. On their website, the band uses a quotation by Freed: "Rock 'n' roll is a river of music that encompasses elements of rhythm & blues, jazz, rag time, cowboy songs, country songs, and folk songs. All have contributed to the "Big Beat."
The Woggles promise a cheesy, sweaty show. You might want to bring a pair of goggles.
There it is, I said it.
Tiki Oasis 16 kicks off Thursday night, August 18 under the stars of the Bali Hai Restaurant on Shelter Island. The following three days will find the party shifting to Mission Valley's Crowne Plaza Hotel, aka The Hanalei. Visit www.tikioasis.com for schedule and ticket information.