THREE CHORD JUSTICE: One Four Five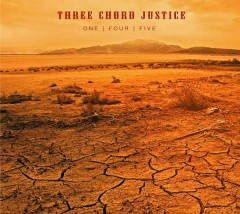 Country bands with powerful female lead singers are a tradition, going back to Patsy Cline and Loretta Lynn during the genre's golden age. While there are numerous "modern country" bands now with female singers in the spotlight (Shania Twain, Alison Krauss, Martina McBride), few are in bands that play with a genuine feel for the dusty country roads and beer-soaked floors of honky-tonk bars in towns like Bakersfield. Enter Three Chord Justice, Liz Grace, and the local band's debut CD, One Four Five.
Along with Grace (vocals, acoustic guitar), TCJ includes Jeff Houck (guitars), Dave Preston (bass guitar), Cheryl Preston (vocals, percussion), Mark Markowitz (drums), and Tom Wolverton (pedal steel, lap steel, mando, banjo, dobro, vocals). The disc is 14 tracks, 12 of them originals by the three songwriters on board (Grace, Houck, and Dave Preston).
The characters in the music are familiar: the battle of the sexes, the bottle, and the road. Grace is the star of the show, and the band gives her great support from the starting gate, with the country-swing "When You Come Home Tonight." She is in the almost traditional role of a wronged woman getting back at her cheating man, and her clear voice digs into the part — and she adds just a little bit of cowgirl twang. In "Never See Me Anymore," she nails it again: "Maybe I'll get some exercise, washing myself of all your lies." Some crisp Telecaster chicken-picking from Houck helps "Leave This Town" motor along briskly, while "Mama Was Miss Ventura" is a clear highlight. This one is a mid-tempo story tune with great lyrics that hit a bundle of country themes, sung with a great touch of wistfulness by Grace, over ace pedal steel lines, about her mom, "Wearin' white, well it wasn't right, seein' I was on my way/ She put her red dress on and danced the night away." It's country music: the fallen beauty and her bad boy beau ride off into the sunset in a Caddy, with a bottle, and the rest is history.
A nifty cover of "Drivin' Nails" is occasion for some tasty harmonies with Grace and Cheryl Preston, and more ear-catching guitar work from Houck. "The Auctioneer" is a brisk swing that is memorable for some high-velocity Grace lyrics, mixing auction calling with her tale about her and her unfaithful baby's love problems — ending with a full-throttle, dueling guitar outro that smokes. The only track here that sounds like filler (on a 55 minute disc) is the straight-up blues-rocker "My Whiskey," a vehicle for guitar solos by both axe men. Hank Williams' "Lovesick Blues" is sung beautifully a cappella by Grace, a nice change of pace; the lady has some pipes. "Hillbilly Justice" is another standout tune, the story about a hill country woman who deals with her wayward man by putting him in a whiskey cask, down a well — she "didn't mean to make a scene."
On One Four Five Three Chord Justice play music that often echoes the classic, flatlander country of a generation ago, essential listening for country music lovers. Watch for their cover story next month in the San Diego Troubadour.