THE WESTERN COLLECTIVE: Hearts and Dreams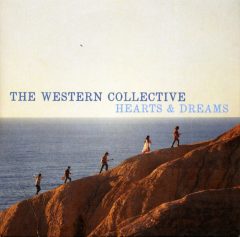 Most good roots music bands play music from one or maybe two genres, feature one or maybe two songwriters for their originals — sung by one or maybe two lead vocalists. Not the Western Collective, a local quintet whose debut CD Hearts and Dreams is an eclectic delight.
"Collective" is a good band name for a group with four writers and singers contributing to their self-produced album — including Trent Hancock (guitar, bass, vocals), Fast Heart Mart Stamper (guitar, banjo, vocals), Justin Werner (guitar, harmonica, vocals), and Chad Farran (drums, guitar, percusson, vocals), along with Jamie Shadowlight on fiddle and viola. The nine-track offering is cleanly recorded and features a revolving door of lead vocalists and styles, and still hits its marks consistently.
Opening with the title tune, a bluegrass burner about following your heart, with Stamper leading the charge, it's all there — hooting and hollering, hot banjo picking, and incisive fiddle riffs over the flying one-two beat. Things don't cool off much for Werner's "Back When," which starts with a fast beat and plenty of harp, then, halfway through, drops into a slower, pulsating bridge — only to kick out the jams again at the end as pushes blues-boogie buttons.
The first slow tempo tune is the unusual "Your Ghost," which isn't really folk rock, or blues, but has a good pop hook and makes great use of Shadowlight's string talent and clever lyrics, "When your ghost comes around and knocks at the door/ You know I'll greet him 'cause I seen this before." The disc highlight is "Southbound Train" with great harmonies front to back by Hancock and Werner. Great backing vocals help, along with guest slide guitar (Robie Givens) as the dynamics and catchiness of this tune are off the chart. Farran's "Road Trip" is a pleasant mid-tempo country shuffle with Jew's harp and banjo, lots of "wooh-oooh"s in the vocal and harp and fiddle contributions.
Stamper again takes the lead on "Depression Proof," about singing songs, chasing the sun, and making people happy. This is another rave-up with full-throttle fiddle by Shadowlight (whose playing impresses throughout), banjo, and double-time drums; the band does this kind of thing very well, judging by the title track and this tune. The disc wraps with the only cover, Leonard Cohen's antiwar protest song "Anthem," and it is another standout track. Starting with just Stamper and guitar, the song then steadily builds, adding harmony and guitar from Hancock, then more guitar, drums, cello, and a verse sung by Werner, and finally all the harmonies becoming three-part — completing a full acoustic spectrum of sound as the lyrics reverberate, "I can't run no more with that lawless crowd/ While the killers in high places say their prayers out loud." A good cover song choice is made memorable with a superb arrangement, and a fitting close to an album of ear-catching material by the Western Collective, making for a great listen.