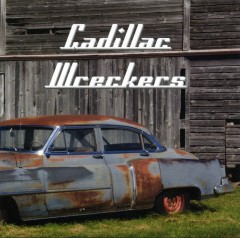 Fans of roadhouse and jump blues-and cool band names-will enjoy the Cadillac Wreckers' latest disc, a nine-track sampler that adds some live tracks to six studio cuts by the La Mesa blues quartet. The self-named album features Dana Duplan (guitar and vocals), Dane Terry (harmonica and vocals), Stan Pachter (bass), and Steve Tomaino (drums).
It's a mixed platter of Chicago style (Ã  la Slim Harpo and William Clarke) with a healthy side order of Texas blues, recalling the Fabulous Thunderbirds and similar acts. Duplan and Terry split the lead vocals on the blend of originals and covers. "Good Little Woman" opens, a fine jump blues that gets the juices flowing, giving the soloists a chance to flash their chops. Duplan's clean, disciplined licks and Terry's warbling, slicing harp lines bring to mind former T-Bird axe man Duke Robillard and harp patron saint Paul Butterfield. "Letter to My Girlfriend" and "I Hear You Knockin'" are covers that get solid readings — especially the latter, echoing the great Thunderbirds version. "Testify" is another good burner with a driving
On the live tracks, the vocals are flat and buried, but look at them as bonus cuts, and the principals burn hotter in this element. On "Cut You Loose" Terry sings with gusto and blows fiery harp, and "Telephone Blues" becomes that rare 12-bar slow blues played with enough expression and control that it grabs the listener.
Cadillac Wreckers breaks no new ground, but shows a greased-up, tight boogie machine as vintage as the '53 Caddy on the disc sleeve.