THE WAYNE RIKER 5: Kindred Souls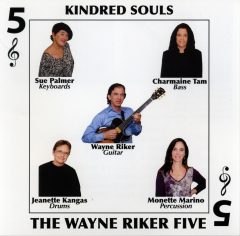 Let's face it, deep down inside even the most diehard of acoustic music lovers have a little corner of their music soul that digs the sound of a good blues guitarist laying down crisp, biting lead guitar solo lines. What makes local guitarist Wayne Riker's music so appealing is that he has covered such a wide spectrum of styles and approaches, including jazzy solo acoustic guitar discs, plugged-in music with a jazz combo, and last year's Guitar Decathlon, on which he teamed up with many of the top guitarists in town, playing in every genre from classical to rockabilly.
For his new one, Kindred Souls, he has assembled the Wayne Riker 5, an eclectic group with a foundation of Jeanette Kangas on drums, Monette Marino on percussion, and Charmaine Tam on bass. Up front with Riker's electric guitars is Sue Palmer on keyboards and the overall sound always transcends a group locked into familiar blues blueprints, or one too concerned with passing around the solo spotlight, like many jazz combos. The eight originals repeatedly give Riker opportunities to let his fingers go, and he makes the most of it.
The opener is a full-throttle boogie, "Fancy Free," and with Sue Palmer in the keyboard slot, it is a great way to start. Riker jumps right in with hot-picked Telecaster licks that are out of the Danny Gatton toolbox, takes turns with Palmer's pounding left hand providing a worthy foil as the tune smokes. "Southbound Shuffle" backs off enough for Marino's hand drumming to add another dimension, but Riker keeps the intensity high with string bending and dirty, choppy blues, wrenching the kind of superb tone from his guitar that other guitarists, especially, will recognize and appreciate.
There is more of a jazz vibe to "Tara's Waltz," as Riker's fatter tone (on a Gibson), some really tasty piano work by Palmer, and climbing scales that blend jazz passing notes with blues string effects give this highlight added depth. "Rock Solid" draws inspiration from Santana, as Palmer's organ chords shimmer above the conga percussion, and Riker slices phrases with rapid-fire picking and a taste of Carlos' string-bending "cry." A different approach different is taken on "Punk Funk," which makes great use of a grinding funk bass/drum beat and organ riffs, alternately choppy and smooth as the lurching beat presses and eases back, with Riker's solo, both on and off his wah-wah pedal, a disc highlight.
"Ten Cent Toll" has a breezy jazz feel, as both Riker and Palmer are smooth as silk; his softer licks lyrical and tied closer to the chord progression. The finale is a tour de force for Riker, the shredder, "Trails of Tears," a minor chord progression built to solo over, and he uses the chance to display his impressive vocabulary of scales, tones, and fretboard command. Fans of Larry Carlton's bluesy electric discs like Renegade Gentleman may run into a few familiar licks.
At its core, Kindred Souls is a great electric guitar album, and music fans should enjoy it regardless of their genre preference — which says a lot for Wayne Riker and this band.