THE LOVEBIRDS: And a One, and a Two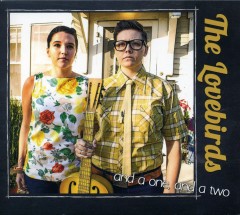 Three years ago, Lindsay White joined up with Veronica May, as both life and musical partners, grabbing plenty of attention last year with their debut disc together, Nutsy Pants, a quirky delight that pulled in the considerable vocal and songwriting talents of both local artists, adding an intangible joy that seemed to flow from their collaboration on harmonies and love songs, like "Life Is So Good." The debut set the bar for their follow-up sky high, but they don't disappoint on And a One, And a Two. The pair wisely stick with what got them here: richly harmonious folk-pop, captured in an arresting, pared-down recording by Jeff Berkley. The singers in turn arrange many of the 13 originals with few additions to the mix beyond their guitars and ukulele.
The opener, "Sleepwalk," is instantly memorable, as Berkley's electric guitar and bass add power to May's picked uke figures and achingly beautiful, overlapping harmonies dance like flames in a mysterious trance. The standout track's lyrics about dreams and lullabies are equally ethereal. On the softer "Landmine," the two trade lead vocals and celebrate their relationship for all its volatility, worth running the risks — like dancing on a landmine because "we don't know when the pin will pull again." Continuing in a mellow vein, "Hook" similarly celebrates what the two have found in each other in metaphors about fishing and clicks with a delicate charm.
The lyrical imagery throughout the disc is strong, and the slice of life "Cellar Door" is like a trip through the childhood memory of the writers, recalling an old house and family members in intricate detail. "Goldmine" is an answer to the earlier "Landmine," but more somber; settled in together, now the coast is clear and sea is calm; the payoff is long-term togetherness, "passing the test of time." After "Words Against the Wall" demonstrates that even in the Lovebirds' world, there are misunderstandings, "FightFlight" follows a catchy keyboard hook to another disc highlight. This tune uses a full band, diminished chords and smooth harmonies to get a distinctly jazz vibe.
Many 13-track discs are like a big house with lots of rooms all similarly painted and furnished, and can drag as a result. Not this one. "Round and Round" is buried in the playlist and starts innocuously with finger-picked ukulele, then a soft but elegant exchange of harmonies about the fleeting playground of life; the spare spell is broken after three minutes as a powerful, full-throttle coda drives home the message with electric guitar, and drums — and it works surprisingly well. Wrapping matters is the quirkiest track, "Love You Like the '80s," "Let's rewind the VHS tape back to a time when things were easy," White and May sing to a uke strum and goofy beeping synthesizer, as they sneak in  pop references from Laverne and Shirley to Jessica Rabbit.
And a One, and a Two is a must-have for fans of good roots music.
CD release: Thursday, May 2 at the Ruby Room, 1271 University Ave., 9pm.