JOHNNY HIGH-HAT: Heart of a Clown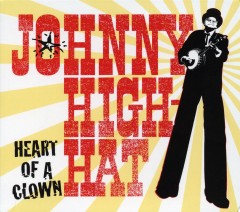 "Live music and stilts," it says on the web page, and on the slip cover of Johnny High-Hat's Heart of a Clown, there he is on stilts, playing a banjo. High-Hat (nee Johnny Highkin) has a fascinating backstory that includes not only years as a circus pit musician, but also time spent involved in theatre with the East German Berliner Ensemble (established by Bertolt Brecht), playing in swing and country bands, and running the local Fern Street Circus. Heart of a Clown is sort of a new chapter for High-Hat, a long-time sideman — a mix of swing jazz and Tin Pan Alley songs that clearly are personal favorites.
High-Hat recorded the disc in San Diego and Salina, Kansas, and uses a swath of musicians; he handles the mandolin, tenor banjo, mandocello, and some upright bass. The backing crew standouts include accordionist Mark Danisovszky, guitarist Steve Jirak, and Teddy Webber on pedal steel. The production by Danisovszky and Jirak often mixes High-Hat's vocals super hot on the unevenly mastered disc, and it is in the material selection and his crooning on certain tunes where the disc runs into problems.
"It Must Be Love" gives a swing treatment to a '30s blues standard, as High-Hat's vocal is fine and hot solos by Webber, Jirak, and High-Hat (on mandolin) are the highlight. A cover of "Route 66" isn't bad either, though a bland arrangement doesn't really give the crew here a chance to make much of it. Then comes "Rockin', Rollin' Ocean," which Hank Snow made famous. High-Hat's vocal here tries hard, but he isn't really the kind of natural crooner with the range to pull off this standard. He does a bit better on the title tune; it won't make people forget Willie Nelson's version, but High-Hat is clearly pouring his "heart" into it. He can't sing like Nelson, but Willie probably never walked on stilts.
For the most part, High-Hat's vocals on the disc work fine. On the country-western standard "One More Ride," which has been done by Snow, Johnny Cash, and others, his version is a disc highlight that sticks with just being a straight-up swing cover that is right in High-Hat's vocal wheelhouse. Ditto "Pipeliner Blues," as slick pedal steel and a boogie arrangement make it work well, too.
Some instrumental filler tracks on the disc show that High-Hat knows his way around a mandolin, the best of these is "South." Late in the disc "September Song" and "Pennies from Heaven" are material choices that don't work well. At 13 tracks, this disc is two or three tracks too long, and a leaner version without these tracks, focusing on swing numbers, would have been an improvement.
Heart of a Clown is an uneven batch of music that is clearly a labor of love. Johnny High-Hat's belated solo album offers some quirky glimpses of catchy swing music from a seasoned performer.