THE HOLLYWOOD PROJECT: No One Like U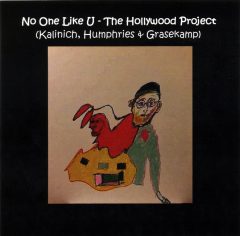 San Diego singer/songwriter (by way of County Durham) Dave Humphries has assembled a new collection of songs titled No One Like U. Written in collaboration with lyricist Stephen Kalinich, and produced by keyboardist Wolfgang Grasekamp, the trio have dubbed themselves the Hollywood Project. The ten resulting tracks are lyrical food for the soul, laced with liberal amounts of ear candy that you ought to expect from such passionate practitioners of the Beatles/Beach Boys vocal pop sensibility.
Contemplation of the multi-verse is something the poets of all epochs have done, and No One Like U is essentially a meditation on human nature and the vulnerabilities inherent in taking a chance at loving one another. Eros and Agape go on a blind double date through Kalinich's cosmic verse, and the results are generally spectacular, mirroring his earlier meditative collaborations with Dennis Wilson ("Little Bird," "Be Still") and the album of poetry that Kalinich recorded in 1969 with Brian Wilson: A World of Peace Must Come.
However, what's most delightful about No One Like U is the melodic flow of the tunes as crafted by Humphries, and the use of keyboard as the dominant instrument. There will always be a Beatlesque component to Humphries' music: he's transparently imbued with McCartney's gift for melody, but also shares the Macca-like tendency at being occasionally slight in the lyric department — and that makes Kalinich a welcome addition to the mix. Theirs is a divine marriage, because it is the melodies that make the words resonate much more than if you were simply reading them off the page.
The songs themselves are gorgeous, demonstrating an emotive depth that is at times gently haunting. "Can There Ever Be?" is plaintively beautiful, underscored by the baroque strings and piano provided by Grasekamp. The self-evident observations of how there's nothing quite like "California" is one of the crown jewels of this set, and whoever arranged the Beach Boys' vocal harmonies did a fantastic job. "I Will Be Strong" is excellent '50s-styled bop, with more than a nod to Buddy Holly and the notion of sharing what you have: "It's all about love and give, give, give…"
The ultimate track "Enough Love" is dressed in the musical equivalent of an Indian Sari and concludes with Kalinich insisting that "There's enough love for you, there's enough love for me, there's enough love for all of mankind."
Grasekamp's production ideas really serve the songs, but with the bass somewhat buried in the mix and practically zero percussion to be heard, I hope that next time round the rhythm section is brought more to the fore.
Collaboration is a beautiful thing. Kudos, gents.