STEVEN YBARRA: What I Really Want to Say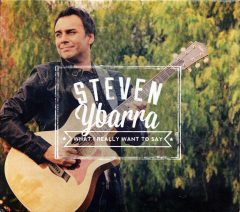 Starting in the early 1990s in the band Liquid Groove (later 34Below), Steven Ybarra started making his mark on local music. The band snagged three SDMA awards with him as the front man, and Ybarra began getting recognition in songwriting contests. After an EP, he released a full-length 2008 CD that included pop and Christian songs (winning an SDMA Best Acoustic nod), and followed it up with Best Days in 2011. His newest is What I Really Want to Say, a ten-song set recorded with Nashville session players, mixing mostly secular tunes with a couple of Contemporary Christian songs, played in the same rocked-up country style.
The production is flawless and slick as on the title tune, which starts the program off to a full-burn start. Big drums bring in sharp guitar lines, Ybarra's earnest vocal about being "crazy about you" is met with crisp harmonies in all the right places, and a superb fiddle solo anchors its Nashville pedigree. "Romance You Girl" doesn't let the energy level drop much; it rocks as well, while Ybarra sings "Make you feel like the only girl in the world/ Give you the stars and the moon and sun when it starts to rain." He keeps the throttle engaged for "The World Stops," a highlight that rides an infectious groove while power chords pound the hook home.
The songs are all co-written by Ybarra, all around 31/2 minutes long, and most sound radio-friendly. If there is one weakness here, it might be that all of the material is at least moderately up-tempo, no softer side is evident — but then, the rocking stuff is very solid.
Ybarra sings to a female audience member who he remembers some good romantic times with in "Sun-Kissed Sunsets," with the big-arrangement feel that used to be heard on some of the radio tracks by John Mellencamp and Bryan Adams — maybe corny, but it clicks as a sort of epic summer tune. "Stand" goes for straight-up power guitar rock — drums and riffs — another highlight that might not be out of place on many radio rocker's discs. "I might be down, a little kicked around/ But I don't give up easy so don't you ever count me out." Bon Jovi rides around on yachts because of songs just like this.
The last two tracks (and a hidden third track that features Ybarra reciting a prayer based on the Book of Psalms, partially drowned out by a U2-ish musical surge in the background) have Christian lyrics. "I'm Gonna Sing" especially rocks as hard and soars as high as the other material, with "Love Divine" not far behind. The arrangements here give such a chance for huge buildups and big-sound dynamics, the songs here just basically substitute the Lord for Ybarra's female romantic interest in the disc's final music — it is bombastic, and his message is pure love and devotion.
What I Really Want to Say is very successful at presenting Steven Ybarra's sound in a very memorable package that alt-country and country rock fans will find hard to resist.