SUE PALMER & HER MOTEL SWING ORCHESTRA: Bricktop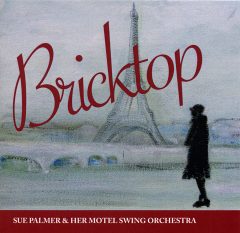 Whenever I think of San Diego, I think of fun. We have the beaches and sunshine. We have the mountains, Sea World, the Zoo, and have gone macro over microbrews. Our biggest shindig every year is Comic Con, when we have all kinds of fun with comics, movies, and cosplay. And ever since I moved here decades ago, the music scene has been a fun and friendly place, too.
One person who personifies this fun approach to music is Sue Palmer. From her time with the old-time band Tobacco Road to her collaborations with blues vocalist Candye Kane, San Diego's Queen of Boogie Woogie piano can be counted on for enjoyable music that is delivered with a smile and occasionally a laugh.
For a number of years Palmer has fronted the Motel Swing Orchestra, a collection of a half dozen folks who share Palmer's enthusiasm for good, enjoyable music. Their latest CD, Bricktop, is a collection of 11 tunes that will chase the blues away, get some folks up and dancing, and get a few more to sing along.
The Orchestra performs a mid-tempo version of Cole Porter's "I Love Paris" that allows singer Deejha Marie some room for a playful interpretation on the lyrics. Following the genius of Porter is the genius of Duke Ellington, as Phil Shopoff's trumpet ushers the band through a plucky and jaunty take on Ellington's "East Saint Louis Toodle-oo."
Steve Wilcox receives the spotlight with his ever-so-crunchy retro guitar sound on Tiny Grimes' minor blues tune "Swinging Mama." Throughout the disc Jonny Viau demonstrates his street cred as an R&B sax player, particularly on the rocking "Frankie and Johnny." And Deejha Marie really shines on the soulful bluesy "If You're Lonely."
The Orchestra reaches all the way back to 1914 for the tropical "Down Among the Sheltering Palms." Made famous by the Boswell Sisters in 1932, the Orchestra gives it its island best, including a ukulele solo from bassist Pete Harrison.
Besides the hits from the long ago, Bricktop features some new tunes as well. The title tune, which opens the disk, is a lively swing tune by Palmer, who has always been clever and inventive with her compositions. Candye Kane joins the orchestra for her self-penned "Misunderstood." The lyrics and Kane's vulnerable interpretation result in an unusual degree of self-revelation from the blues artist.
Jean Paul Balmat, who becomes almost an Orchestra member, contributing clarinet, alto sax, and baritone sax on six of the 11 tunes, gives us "Beignets and Bourbon," which demonstrates his intense love of New Orleans style music.
Closing the disk is a lightly swinging version of "Dark Eyes," in which April West proves that she is the best trombonist 'round these parts. And, before I forget, unless Jeff Hamilton is in town, you wont find a better drummer than Sharon Shufelt in San Diego. All in all, Bricktop is guaranteed to please anyone who has grown to love Sue Palmer, the Motel Swing Orchestra, and the music that they make.