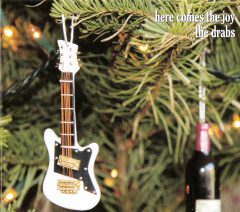 The Drabs are a trio of local rockers who bill themselves as a "slack rock/ clandestine pop band." Whatever that is, what they sound like on their holiday-themed EP Here Comes the Joy is a loosely based update on post-punk artists like Pavement and Paul Westerberg–edgy guitar, bass, drums, and Lou Reed-vibe spoken/sung vocals by David Bernat (guitar, vocals), Steve Clark (bass), and Mike Stone (drums).
Three vocals and an instrumental kick off with "Santa's Got Toys," which rocks with conviction as Bernat laments the fact that the classic gizmos of childhood, like hula hoops and GI Joes, have lost their luster; "I just watched the Frisbee go clean down the drain." For "This Year" A J Croce sits in on piano, but the approach is similar, as the lyrics are about how the new year will be different and better than this past one.
"Mary Christmas" starts with acoustic guitar licks and backs off the rock gas a bit, with a hook that comes and goes between verses Bernat sings about the sights and sounds of Christmas–and a woman He seeks that means everything this season. The disc wraps with an interesting guitar-based instrumental, "Pub Crawl," which surpasses throwaway status by working interlacing electric guitar figures around a drone effect for 5-1/2 minutes, but doing it in a way that has dynamics and sounds cool-no easy feat-and it actually sounds Christmassy.
The Drabs' Here Comes the Joy isn't the usual holiday fare, but it isn't trying to be.