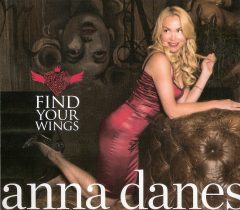 Local jazz fans likely know about Anna Danes, from her appearances at various venues including her Jazz on Cedros shows. The songstress is originally from Poland before the communist collapse, and she has a fascinating story, including a mid-life reinvention as a singer. Her first CD release was 2013's Longing, and she is back with a new one, Find Your Wings.
The album was recorded at Capitol Studios in LA and wisely limits the studio instrumentation to a jazz trio with pianist Rich Ruttenberg, drums by John Ferraro, and bass by Trey Henry. The result puts Dane's playful but strong jazz voice in the perfect, small-club setting that it is used to, as she takes on a 12-track mix of Danes originals and well-chosen standards. She is often matched in the speakers in a sort of center-placed duet with the Ruttenberg's ivories, the mix sounds great.
"When You Were My King" opens, a track by blues singer Janiva Magness that gives Danes a chance to take it out slow and show her ability to wring the feeling from each phrase. The next cover, "I Will Wait for You," is given a Latin percussion treatment and the livelier beat is no problem for Danes. Her voice dances with the darting keyboard lines, scat-singing, floating above he melody–adding passion to an exotic piece; it's a disc highlight. Danes handles a cover medley on "I Want to Be Around/Cry Me A River," slinking in and out of free-floating combo grooves and slower moments with just the right feel.
The originals start with the title track, which is an interesting pop tune that finds her singing about "When the voice of doubt creeps in/ Slay the dragon in its den/ Move that ego into place/ If only for own heart's sake." A really tasty duet follows, as she combines with Richard Shelton for "That's All." It is a good match and the tune soars–with some really sharp keyboard work by Ruttenberg again catching the ear.
Another Danes original, "See You in LA," has a jumping pulse and Danes is right on top of it, changing her vocal persona to fit: "Seagull on the pier he calls/ Neighbors out to play/ Wouldn't it be wonderful/ To land feet first on the waves." This is another highlight, a shift of tone that shows another side of Danes' jazz reach. Other originals that stand out are "Mr. OMG," a battle of the sexes toe tapper, and "The Voice." This one is a slow, late-night heartbreak ballad, a departure of another kind for Danes but like the rest of the album, she has the oomph necessary to make it work. The disc closes with "I Love You," which rates as the only confusing track and possible misstep on the album. Sung a cappella, it amounts to a poem recited to melody about the three words. Nice idea, but it doesn't really work, unlike everything else.
Anna Danes' Find Your Wings is an absolute must-have for anyone who enjoys really good jazz singing.