SVEN-ERIK SEAHOLM: Oxford, Comma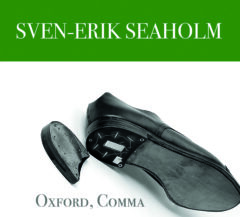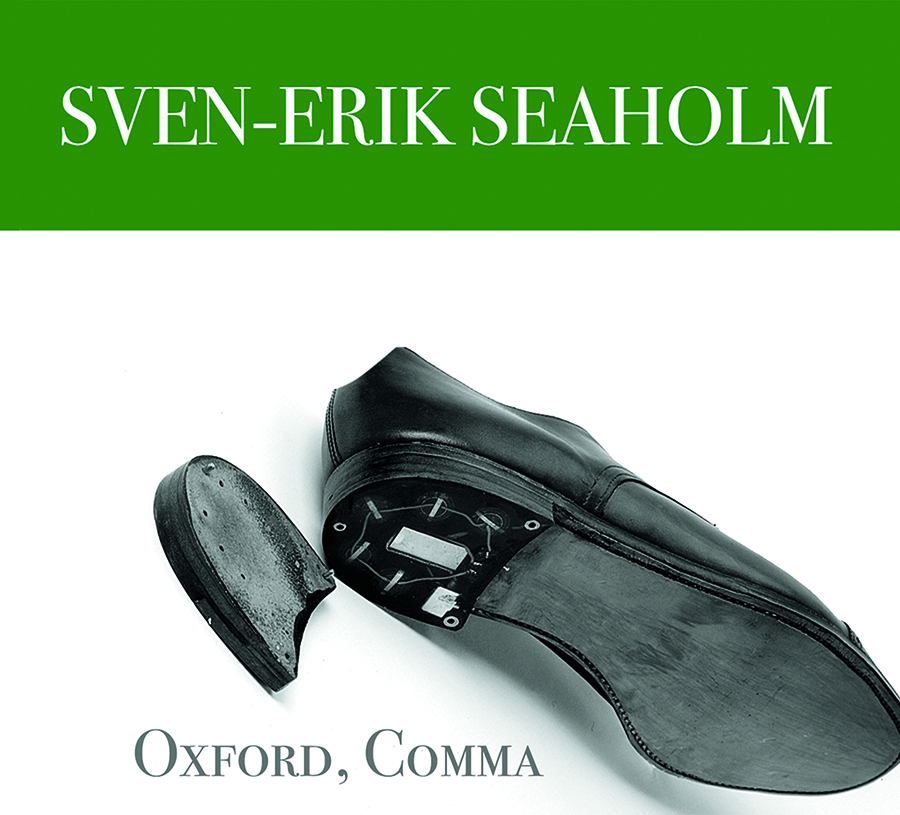 Sven-Erik Seaholm's soon-to-be-released power pop album Oxford, Comma is 11 songs in 40 minutes, and it begins and ends with a complicated and relentless drive forward. At times, I was unsure where that might lead, and it took some getting used to. After a few spins, though, I found myself happily anticipating the next song in spite of myself. At times I hear the Beatles, Santana, early '70s hip vocal groups, and I guess what might be called pure Seaholm, as it's unfamiliar territory for me, but to quote Worf from The Next Generation, "I admire gall."
Appearing on the album are Sven-Erik Seaholm on vocals, guitars, keys, and bass; Charlie Loach on electric, slide, and acoustic guitars; Wolfgang Grasekamp on piano, organ, Moog, and Wurlitzer; Eddie Croft on baritone and tenor saxophones; and Bill Ray on drums. I'll mention additional guest musicians as I go along.
"She Sends Her Best" opens with piano in the prominent role. The song sounds fresh and youthful, yet vintage at the same time. The vocals are full, with feathery, almost imperceptible harmonies so lightly mixed in that it seems I feel, rather than hear them. As much as I want to listen to this song as it feels full of hope and happiness, I am also perplexed by it. Although it begins with a verse, the energy is big and repetitive, and it feels like a chorus. Each verse has that same effect, until the real chorus sets in. To be clear, there is a melodic difference, but the verses begin already ramped up, followed by the chorus that rises, which gives the impression that the whole song is a collection of choruses. At 2:03 a double guitar solo pops in flowery and bright; it suits the song well and is another expression of youthfulness. My other point of confusion is that I'm not sure what "her best" actually is and from where she is sending it (or who "she" is), as it seems the characters in the song are in the same place.
Yes, yes, "I Was a Rockstar for the FBI" grooves hard and steady, beginning with the saxes laying down a potent rhythm and the electric guitar, adding an edginess over the top. This song is theatre at its best—cocky, shameless, and unapologetic. Seaholm's voice slips easily from full and deep to raspy high notes, and a short line of harmony in the second verse heightens the tension. The bridge breaks to smooth out the song with harmonies on every line until gravity lets go completely with a ripping guitar solo by Craig Goldie at 1:55. Although Goldie is obviously a talented and bold guitar player, I'm not entirely sold on the solo being a good fit for the song. It pushes and pulls in ways, even panning left and right at times, almost like a tantrum. The bass and saxes continue to provide cohesion as they lay down the rhythm and driving tag lines. At 2:25 it becomes spacious with bits of what sound like clicks and claps and gasps that are soon joined by sporadic yet purposeful guitar lines that take us into the last verse. Now, this is where the genius comes in: Seaholm's voice has been slowed down as if to disguise his identity as he sings "Now I drive buses for the MTS. Witness protection hasn't failed me yet." It finishes as he now accepts his role as the bus driver, and we hear him drive away.
"Rubicon" is a stylistic detour, the acoustic guitar, piano, and Latin rhythm make me think of later Santana. It features Jessica Hull and Brooke Mackintosh on backing vocals, Brian "Nucci" Cantrell on drums, and Charlie Loach on acoustic guitar. Seaholm's voice is relaxed and feels romantic as he sings "…holding hands just like old folks do in church… Oh mama, this could be the ending of our search." That's a lovely line. At 2:23 there is a fitting guitar solo with piano accents and backing vocals here and there, which lead us to a break in the rhythm at 2:55 for the first part of the bridge until it swings back to Latin for the final chorus. This song is a lost weekend of conquest and surrender.
"Ubiquitous" starts with a steady drive of quarter notes and big backing vocals and harmonies; like heavy footfalls, it urges you forward. I sense a '60s vibe and it feels Beatles-esque. As Seaholm begins, the effects on his voice sound like an old radio show or a scratchy turntable. The melody is adventurous; it is as steady as the intro but, in contrast, it flows smoothly—it holds me and carries me along. Sadly, this song ends too soon. At only a minute and 52 seconds, I want it to be longer.
Seaholm plays with pedal steel loops throughout the sleepy waltz "Cowboy Song" that help to set a retrospective and contemplative mood. It feels personal. He sings, "…never forget me, I just ask you let me live on." There is a sweet sadness in the message; it is accepting of the past and of the future but still hopes for some sort of immortality. The simple bass and drums further support the melancholy. In the bridge at 2:32, he is resigned to be what he is—if not all he could have been, at least all he ever wanted to be. He sings, "And if they forget me, maybe they'll still sing along." I love this song and I happily sing along.
Additional musicians include Paul Beach on bass on "Better This Way," Kelly Bowen on bass on "Etcetera," and Cookie Fortune-Seaholm on vocals on "Thing We Said Today."
It took a bit of ruminating, but I am happy to have taken the time to listen and get to know this album. It got better with each go-round and now I hear some of it when I sleep.
Oxford, Comma releases on Wednesday, November 16 at Humphrey's Backstage from 6-9pm.