SVEN-ERIK SEAHOLM: Looking Forward
Singer. Songwriter. Musician. Producer. Raconteur. No doubt about it, Sven-Erik Seaholm wears a lot of hats when it comes to music. For nearly four decades, Seaholm, currently based in the Rolando area, has been a major presence in San Diego, both through his own music and groups such as the Wild Truth and the Ghandi Method, as well as production for performers ranging from Michael Tiernan and Via Satellite to the Farmers.
On November 16, Seaholm returns to regular performing after a seven-year break, with a special early evening show (6-9 p.m.) at Humphrey's Backstage Live, celebrating the release of his latest album, Oxford, Comma. Backing Seaholm for this concert is an all-star band consisting of Charlie Loach (guitars, backing vocals), Paul Denton (bass), Roger Friend (drums), Wolfgang Grasekamp (keyboards), and Ed Croft (saxophone). Making the event an absolute must for local music fans, opening the show will be Joey Harris (Beat Farmers, the Tighten Ups) and Calamity, featuring Cathryn Beeks, Patric Petrie (Skelpin, Brogue Wave) and Marcia Claire.
THE NEW ALBUM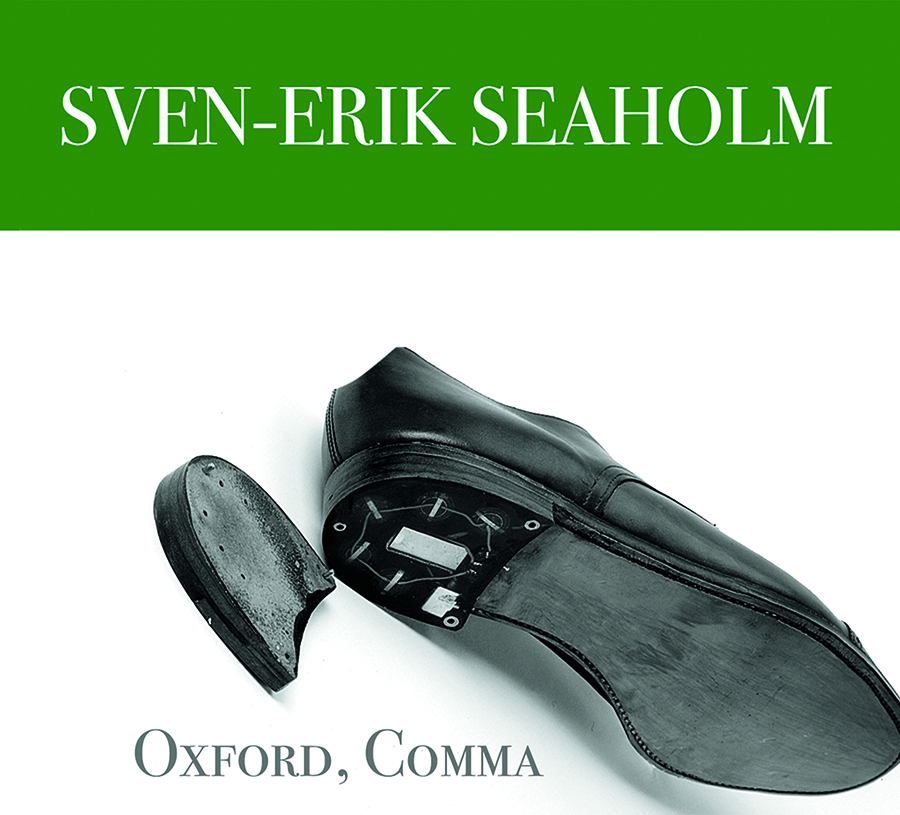 What's the significance of the new album's title? "I was feeling a little pessimistic at the prospect of releasing an album of new music into a world that might not be breathlessly waiting for it," Seaholm said good naturedly. "I thought that the only people we know for sure will hear this music are music journalists! So, I called it Oxford, Comma as sort of a secret handshake that I hoped might tickle them."
Seaholm describes the new album as power pop. "I use that term a lot when describing this latest record," he said. "It's definitely rooted in that '70s pop aesthetic, much like my album Upload was in 2003, but it's a bit more fun and ironic. Maybe it punches a little harder, in an angular way."
As for what sets Oxford, Comma apart from his previous releases, Seaholm is succinct. "It feels happier, which I am," he mused. "There are even a few funny lines, whereas they might have been previously cloaked within some sort of pun or inside joke. This time, I wanted lyrics that were more like cool folks I could hang out with. Everything didn't need to be Shakespeare. My life was already providing that drama all on its own!"
SEVEN YEAR BREAK
Seaholm's seven-year hiatus wasn't planned. "It was life stuff, in crashing waves," he said. "I uprooted my record production company to move to Utah, so that I could be in my youngest son's life. That didn't work for anyone. I returned to San Diego, breaking my ankle in the move. I had a couple of gigs initially, but then I spent months searching for work. I ended up washing dishes for a couple of years. Then I drove an MTS city bus for nearly five years. I was just not able to work on music anywhere near full time." Things would get worse before they got better. "Then I got cancer. I had surgery on the very last day before the pandemic. Then I didn't have cancer anymore, but there weren't any gigs anymore either. Impulsive flashes of creativity were sort of getting brushed aside by the demands of adult life and so on." Was it hard for him to ramp things back up? "In a word: yes. In three: oh, hell yes!," Seaholm said. "It was harder than physical therapy. My good friend and guitarist Charlie Loach was really good about coming by every week and playing music with me. Sometimes we'd jam. Other times we'd record. Sometimes, we'd just talk the whole time. Musically and spiritually, I was ice cold and rusty. He and my wife, Cookie, lifted me back out."
EARLY DAYS
Seaholm has loved music for as long as he can remember. "As a little kid I used to sleep in a very small space, with my little ear laid onto a tiny transistor radio," he recalled. "Every hook that Casey Kasem played on American Top 40, every record spun by radio DJs like Wolfman Jack, Shotgun Tom Kelly, or Jim McInnes, was greedily gobbled up and all of the info about its producers, writers, and players, and any other 'trivial' info was instantly stashed away for later use."
Seaholm's siblings had their separate tastes (the Beatles, Elvis, Streisand), but it was his mother's love for music that really hooked him. "Earl Bostick's saxophone would yield to Chopin and then groove into Wes Montgomery. I loved all of it. Sometimes I can still hear the sound of the vacuum cleaner underneath it all! I eventually found my own favorites and my fervor only deepened. It was my mom that recognized and supported my obsession with music—piano lessons and all."
His earliest musical heroes were the Jackson 5 and the Monkees. "Then I heard Marvin Gaye's "Heard It Through the Grapevine." Then it just kept expanding exponentially: Isaac Hayes, Led Zeppelin, Curtis Mayfield, the Temptations, the Beatles… by high school, it was Chicago, the Bee Gees, Billy Joel, Elton John. Once I was a music 'professional,' Elvis Costello, Paul Simon, John Hiatt, and Neil Finn's Crowded House informed my writing. Now, I just listen to everything! Searching for the unique, that perfect groove, or a song that captures that one elusive feeling or texture like no other does. Really, it's the simple joy of discovery that's kept me in music all this time."
Though Seaholm is largely known as a guitarist, that wasn't his first choice for an instrument. "It's funny you ask that, because I actually played trombone before learning guitar," he remarked. "I started with piano, played trombone in a marching band, and picked up the guitar in 11th grade." The guitar proved to be a perfect fit for him. "I'm a very physical player, so the guitar feels the most natural in performance for me. I mean, the piano can be very physical, but your feet are still locked to the floor behind it. Plus, it's so heavy."
PRODUCING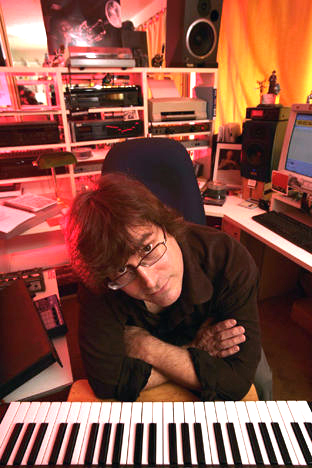 As busy as he is at the moment with his own new album, Seaholm has continued to produce other artists, full speed ahead. "I'm working every day now," he said. "I'm more involved in music now than ever before. The studio here is called Haus of Bleu because…it's a little blue house. We never call it that. I kind of distilled my branding down to Sven-Erik Seaholm. Covers a bit of ground, I guess. I recently worked with Geza Keller (Nothin' to Lose) and just finished an album with Jeffrey Detrick, which will be out next year."
Of all the artists he's produced, does one stand out as particularly significant to him? "This should be a difficult choice for someone who's produced hundreds of records, but it's not," he said. "When Buddy Blue and I recorded his album, Dipsomania, we knew we had created the best version of the record we had envisioned. It was brash, wacky, had no filter, and swung like crazy! I remember it as a difficult project at times, but there's no denying the exuberance that permeates those performances. I'll always remember him singing on his toes, à la Jackie Wilson, when he sang "Talkin' Woman." He was all the way into it, man!"
MODERN DAZE
With 40 years in his musical rear view mirror, how does Seaholm feel about his artistic legacy? Is there much unreleased material to be discovered by future generations? "There are still songs that have eluded being captured in a way that I'm happy with," he said. "The ones that hang around long enough eventually find a home or get repurposed in some way. I guess in considering that legacy, you'd have to include all the production work I've done. That is another way my musical sensibilities come into play. As for recordings, there aren't a lot of outtakes. I tend to use 'all of the buffalo,' as the saying goes. That said, little pieces from abandoned recordings are littered throughout my personal catalog!"
He considers the music business to be tough at times, but Seaholm truly enjoys what he does. "Being able to do what I truly love and the time to do it well is all the motivation I need to get out of bed," he said. "I really can't say enough about my wife, Cookie, and her generous vision. It's why I can say that, in the knowledge of how lucky I am. Songs captivate me. That's really a better word for it. Writing a song is a little like falling in love."
Look for more shows and more releases from Seaholm in the future. Meanwhile, he notes this current resurgence wouldn't have been possible for him without support. "I want to say that if I hadn't met my wife, Cookie, none of this would be happening," he commented. "She pulled me from a dark place, believing there was a better path for us than with me driving a bus. She figured out how we could do it. She's sacrificed and worked tirelessly, just to see me doing this again. Her daily expressions of love and commitment inspire me to be a better man, not just a better artist, and I love her madly," Seaholm said.
After all these years, what's Seaholm's favorite thing about being a musician? "It's two things really," he noted. "Live performance brings this confluence of all these different energies flying around—the singer, the song, the band, the audience—all intertwining and taking shape into a completely unique experience in that moment. Then, when you're in the studio, you're creating and recreating, redefining, and refining that moment. I find both approaches exhilarating!"     www.svensounds.com
Oxford, Comma CD release on November 16 at Humphrey's Backstage Live. See calendar for details.
Editor's note: Welcome back, Sven!!!