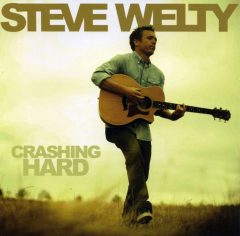 Ah, San Diego. The sun, the fun, the surf, and the numerous young dudes with single-cutaway acoustic guitars and sunglasses writing soft rock about the beach life. The success of Ben Harper and Hawaiian Jack Johnson playing music that at its heart is just a guy with a guitar, a voice, and an idea has blossomed into an entire genre since the mid '90s, and local singer/songwriter Steve Welty has released his contribution with his debut CD, Crashing Hard.
Welty has some local club and coffeehouse experience as a member of a band called Carbine, and here he and producer Arrow (aka Voice in the Dark) strip down the sound to his acoustic six-string, Brek Twomey's bass, Sean Bailey on drums, and sparingly used keys by Jake Levy. As a result, the ten straight-ahead arrangements depend on catchy melodies and strong vocals, and for the most part that's what happens.
This is good-time, positive-spin music, without angst or heartache, and the title tune shows Welty telling a longtime romantic companion about the good times, to a lurching but catchy beat. His voice isn't a powerhouse, but he scores points for making an earnest connection with the listener. The reggae-lite of "Maria" clicks largely because of the well-placed backing vocals, while Welty belts out a message of love. "Far Away Places" has plodding verses that weigh down its beach-party vibe and just doesn't work. No worries, as "Wide Eyed and Beautiful" (co-written by Cope Isaacson) is next and is the best tune on the disc. This tasty ballad is fully realized pop, with a great hook, a bridge that fits, nifty arrangement-four minutes of sharp song craft.
Welty keeps things cranked up with "Gone Away," as he tells of "the puzzle piece of love" and other longings to his lover, over a just-right reggae riff that dissolves on the choruses into a nice keyboard/harmony figure. On "Say No More" there are some intriguing lyrics (not included) about "Train is bound/Destination my fate"; as on the other songs here the message is one of, we're all here in this wonderful place, let's enjoy it and one another. "My Life" has a similar emotional lesson, but the melody is in a wheelhouse that Welty can't quite handle, and it's off just enough to distract from the song's impact. The closer is "Simple Things," which is in a key that Welty has no trouble with, and the mid-tempo rocker comes closer to Jack Johnson's stuff than any other track on disc, which is not a bad thing.
Steve Welty manages to put his stamp on the music of Crashing Hard, though the overall sound is familiar. His songs are upbeat and personal, while he doesn't blow away the listener with his vocal cords, his song chords are interesting and catchy enough to make for a pleasant listen at the beach. Or anywhere else.