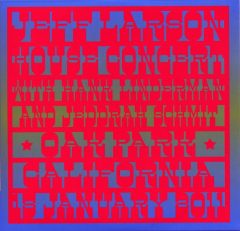 It is frustrating to see marginally talented singers showcased on TV programs such as "American Idol," "The X Factor," and "The Voice" when there are so many versatile, accomplished, multi-dimensional performers who have been laboring for years without the recognition and commercial success they deserve. Jeff Larson is an example. Larson is a critically acclaimed singer-songwriter based in L.A., whose 2010 album Heart of the Valley, a collaboration with America's Gerry Beckley ("Sister Golden Hair"), garnered rave reviews. Backing Larson on that CD were Rusty Young (Poco) and Jeff Foskett (Beach Boys, Brian Wilson), among others. Over the course of his decade-long career, Larson's work with Beckley and fellow America bandmate Dewey Bunnell (both of whom performed on Heart of the Valley, which Beckley produced) earned him the moniker "the Third America(n)." Larson evokes the soft pop/rock/country/folk, southern California sound that dominated popular music in the 1970s — think Dan Fogelberg, Jackson Browne, and (of course) America.
A new studio release by Larson, titled The World Over, should be out in early 2012, featuring Beckley, Bunnell, Foskett, and other top shelf L.A.-area musicians. In the meantime, Larson recorded a live collection of 10 original songs performed at a house concert in Oak Park, California on January 15, 2011, aptly titled House Concert. Larson's chardonnay-smooth lead vocals and nimble acoustic guitar are joined by session musician/engineer/producer Hank Linderman (who also mixed the recording) on electric guitar and backing vocals and Jeddrah Schmit with harmony vocals.
The trio delivers a tour de force. House Concert provides a "best of" compilation from Larson's considerable studio catalog, and a preview of the upcoming release by including three songs from that album: "One Good Lie," "See It Fall," and "Approaching Midnight." The remaining seven tunes from House Concert are drawn from his prior albums New Antiques (2007) ("I Don't Mind the Rain," "Hapless Sky"), Room for Summer (2000) ("Hey!," "February Passing Through"), Left of a Dream (2008) ("Ghosts of San Miguel"), and Swimming in the Make Believe (2006) ("You Remind Me of the Sun," "Under the Weather").
Linderman's electric guitar shines in "Hey!," a song with an infectious early Beatles vibe. Elsewhere, as in "See It Fall," Linderman provides a delicate accent to Larson's mellow acoustic guitar and vocals. Larson's lilting vocals are on display throughout, but especially in "I Don't Mind the Rain," "Hapless Sky" (a video of which is available on You Tube), and "You Remind Me of the Sun." Schmit's delightful harmony vocals — if anything, underutilized — blend beautifully on "One Good Lie," "See It Fall," and "Approaching Midnight." Larson's songs are not all sweetness and light. "Ghosts of San Miguel," one of my favorites, is subdued and moody, as is the reflective "Under the Weather."
House Concert is an excellent sampler of Larson's work, which is far superior to prime time fare. www.jefflarson-music.com