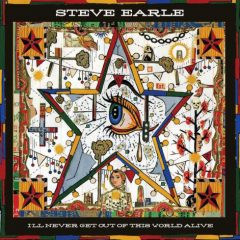 Expectations were high for the versatile (singer-songwriter, actor, author) Steve Earle's latest album, his first release of original material since 2007's Grammy-winning Washington Square Serenade (for Best Folk/Americana Album). After all, Earle's intervening tribute to his mentor, the late Townes Van Zandt, Townes (2009), won a Grammy for Best Contemporary Folk Album. Moreover, to produce I'll Never Get Out of This World Alive, Earle selected the equally accomplished and eclectic T Bone Burnett, who recently shared an Academy Award with Ryan Bingham for writing "The Weary Kind" from the soundtrack of the movie Crazy Heart.
I'll Never doesn't disappoint, with 11 engaging songs that form an amalgam of folk, blues, and country. The theme of the album is mortality; hence the title, derived from Hank Williams' final song. The opening track, "Waitin' on the Sky," is the cynical tale of growing up in a military town during the Cold War ("waitin' on the sky to fall"), with a zydeco-flavored country beat. In "Little Emperor," the lyrics render a scathing anti-Bush screed juxtaposed against a catchy fiddle ditty, provided by the outstanding Sara Watkins. "The Gulf of Mexico" is a gritty ballad of blue collar life on the water, celebrating generations who worked as shrimpers, ship captains, and roughnecks, enlivened by Watkins' superb fiddle work.
"Molly-O" is a Celtic-style folk song telling the story of a highway robber of yore stealing travelers' valuables to win the heart of a feckless lover, willing to risk the gallows for Molly-O.
"God is God," one of two songs here originally written by Earle for Joan Baez on her Day After Tomorrow album (the other being "I Am A Wanderer") is a simple but beautiful folk melody ruminating on faith and doubt. The message is spiritual in a 12-way way (Earle is a recovering addict): "Every day on earth's another chance to get it right."
"Meet Me in the Alleyway," a spare blues arrangement with a retro sound and rough vocals, is about a man with a "melancholy malady" seeking a voodoo cure in a Louisiana alleyway.
"Every Part of Me," one of my favorite tracks, is a moving love song to Earle's wife, Allison Moorer, whom he married in 2005. Earle has led a famously troubled life, including a struggle with heroin addiction, six failed marriages, and a stint in jail. Thus, it resonates when he says "I've labored long in my travails/And left a trail of tears behind me/Been in love so many times/Didn't think this kind would ever find me."
In "Lonely Are the Free," Earle's gravely vocals sound a bit like Ryan Bingham, which is not surprising since Burnett produced the soundtrack to Crazy Heart and Bingham's latest album, Junky Star (2010).
Allison Moorer joins Earle in "Heaven or Hell," a blues-flavored dirge to the obsession of ill-fated love: "I love you baby but I just can't tell/This kind of love comes from heaven or hell.
In "I Am A Wanderer," a pleasant folk song originally written for Joan Baez, Earle gives voice to society's outcasts and pays tribute to the nobility of their struggle. Watkins' accompanying fiddle and vocals provide the perfect accent.
"This City," written for the HBO series Treme, in which Earle plays a street musician, is Earle's paean to the city of New Orleans and its survival of Katrina's devastation. The jaunty horns, arranged and conducted by Allen Toussaint, provide relief from the somber lyrics.
This CD is Steve Earle, the "hardcore troubadour," at his best.