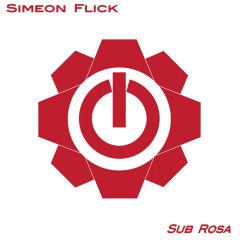 The first thing you hear on this record is the sound of an acoustic guitar and a gospel-like chorus of ooohs. It is soulful, graceful, soothing. And then the song kicks in and all bets are off as you slide down into the depths of Simeon Flick's psyche where he explores his consciousness and his values, laying down the gauntlet of morality in "That Ain't Right," the lead track on Flick's fifth long-playing collection of tracks titled Sub Rosa. After "That Ain't Right," the next ten tracks explore what those values are and the oft times tough decisions that are necessary to have the courage
of your convictions in how to live out those values.
Sub Rosa was the work of creative catharsis for Flick as he writes in the press release for the album: "I was going through so much adversity at the time. My wife miscarried, our cat got really sick, I began having issues with my voice and developed an umbilical hernia, and my mother in-law's health was rapidly surrendering to non-Hodgkin lymphoma [she passed away on September 28, 2011]. I decided to start working on demos for another album as an escape, even though I had released Piquant less than a year before."
Even without the backstory as a reference point it would be hard not to hear the self-examination that runs through all 11 songs on Sub Rosa. It appears that Flick is exorcising a number of demons on these songs, with each track upping the ante with proclamations of self-sufficiency ("Sequester"), forgiveness for those who have trespassed ("Nothing but Love"), and figuring out how to pick up the pieces of your life after moving through a crisis ("After the Fall").
Passion is the name of the game on Sub Rosa and these tunes rock like nobody's business (in fact, I could imagine hearing any one of these songs on KGB circa 1982-1988 and they would ALL fit right into place with the formatting of the time). Whatever issues Flick was having with his voice seem to be all but healed by the time he cut the vocals on this record, because the singing is outstanding on every single track. Not just the vocals, but the guitar work, the bass playing, the drums… every aspect of this record is exceptionally executed (Flick played all the instruments and engineered and produced all of Sub Rosa at his own Blue Chair studio in the South Park neighborhood of San Diego).
Flick has made Sub Rosa available as a download-only release on CDBaby.com and has other tracks available for free download on Soundcloud. He continues to play gigs around town with his band, Scratch (featuring Eric Oberschmidt and Mike Strawbridge). Flick is an artist worth paying attention to and Sub Rosa is the silver lining in a season of dark clouds. Check it out. It's musical therapy at its finest.